As India continues to script a new foreign policy path, skirting unprecedented levels of foreign criticism for a series of domestic policies and incidents of violence, the Ministry of External Affairs (MEA) has appointed a new spokesperson, Anurag Srivastava, to take charge as the nodal voice on foreign policy issues from Raveesh Kumar, who completes a three-year stint and will proceed to Vienna
Mar 15, 2020
Image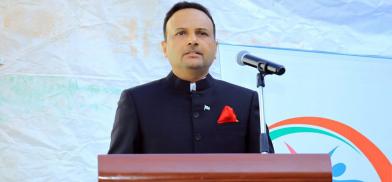 As India continues to script a new foreign policy path, skirting unprecedented levels of foreign criticism for a series of domestic policies and incidents of violence, the Ministry of External Affairs (MEA) has appointed a new spokesperson, Anurag Srivastava, to take charge as the nodal voice on foreign policy issues from Raveesh Kumar, who completes a three-year stint and will proceed to Vienna.
Srivastava, who was India's ambassador to Ethiopia and the African Union, has earlier experience of working in the MEA's External Publicity wing, but will find himself dealing with a very new set of challenges facing foreign policy, not least among them being how India responds to the global Coronavirus outbreak that has caused unprecedented chaos and closing of borders, threatening the very essence of globalisation.
A series of visits and important meetings have been postponed, including Prime Minister Narendra Modi's visits, to Brussels for the India-European Union summit on March 13 and to Dhaka for the birth centenary celebrations of Sheikh Mujibur Rehman, the founding father of Bangladesh, on March 17. The India-US Defence Cooperation Group meeting has also been postponed, while US Defence Secretary Mark Esper's India visit is also not happening now.
A consistent feature of recent Indian foreign policy has been that it is citizen-centric, with South Block looking out for Indian citizens wherever they are. In fact, the late former External Affairs Minister Sushma Swaraj, also known as 'Twitter Aunty,' famously said any Indian stuck anywhere in the world only needed to send her a tweet and she would resolve their problem. And she did, thereby changing the face of the MEA from a hidebound, reactive organisation to a people-friendly, pro-active one, earning her encomiums and affection from Indians worldwide.
Therefore, rescuing Indians stuck abroad and trying to keep the COVID -19 disease at bay has been South Block's priority in recent weeks. Additional Secretary level official Dammu Ravi will be the nodal officer. India has suspended all foreign tourist visas till April 15 in a bid to contain the spread of the disease. All visas, except diplomatic, official, UN/International Organizations, employment, project visas, stand suspended till mid-April 2020. 
Given the scale of the disease in Iran and its pressure on that country's own resources, a team of six Indian health officials has been deputed to Iran to set up testing and sampling facilities there, while a military transport aircraft of the Indian Air Force (IAF) has brought 58 Indians back from coronavirus-hit Iran. About 2,000 Indians are living in Iran, which has witnessed a massive COVID-19 outbreak, after China.
External Affairs Minister S Jaishankar tweeted about the successful mission and return of the first batch of Indians from Iran while making a statement in Parliament about South Block's efforts to rescue stranded Indians. Iran has also been among the countries most scathing in their criticism of the riots which hit the Indian capital last month, prompting Jaishankar to say that the criticism had enabled India to know who its real friends are. Be that as it may, the global Coronavirus pandemic will further negatively impact the Indian economy, already reeling under the twin impact of low growth and high unemployment. 
India's enhanced global stature has had, as its main pillars, a burgeoning economy and the vibrant pluralism of its democracy, both of which are now threatened by factors both external and internal. The economic slowdown is already hurting its rising ambitions to be among the global rule-makers, while its increasingly polarized polity is hurting its strategic goals.
Freedom House, a democracy advocacy organization, actually flagged India as a major concern, saying the "Hindu nationalist" government's policies threatened the "democratic future of a country long seen as a potential bulwark of freedom in Asia and the world."
While Jaishankar said India would rise in a polarized world and the rise of nationalism across the world was providing an opportunity for India to shape its domestic politics, the widespread criticism of some of the government's recent domestic policies, including on citizenship and Kashmir, could see as its first casualty: a global consensus for India to get a permanent seat on the high table at the UN Security Council.
However things pan out, Srivastava and his ministry will clearly be fighting many fires to retain India's global stature in the face of new and emerging challenges as lawmakers, from the US to the UK and the EU, openly criticise India's "governance" and are even casting doubts about its ability to handle a major coronoavirus outbreak.
(The writer is Editor, IR&A)