The World Health Organization (WHO), on Saturday donated medical and diagnostic equipment to Maldives to aid in its efforts to combat an outbreak of the new coronavirus
Image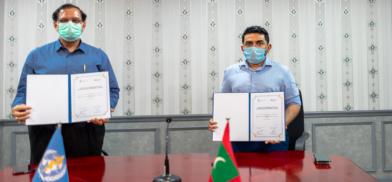 The World Health Organization (WHO), on Saturday donated medical and diagnostic equipment to Maldives to aid in its efforts to combat an outbreak of the new coronavirus.
The donations were presented to Maldivian Health Minister Abdulla Ameen by WHO Representative to Maldives Dr. Arvind Mathur in a ceremony at the Health Ministry headquarters.
The donations include Intensive Care Unit (ICU) beds, additional equipment for ICUs, medical consumables, equipment for laboratories, and 10,000 coronavirus test kits.
Health Ministry has stated the donations will help reinforce intensive care services for coronavirus patients.
Speaking at the ceremony, Dr. Mathur noted that the new coronavirus continues to spread across the globe at an alarming rate, and urged the Maldivian people to adhere to the instructions of health authorities in order to control the spread of the disease in the country.
WHO has continued to supply a steady stock of test kits to Maldives, and is assisting in the government's efforts to expand testing capacity at regional hospitals outside of the capital.
The organization donated cartridge needed for GeneXpert systems, used to process PCR tests, in June, along with an additional batch of test kits.
Maldives identified its first coronavirus case on March 7, and declared a state of public health emergency over the pandemic four days later on March 11.
While coronavirus cases had initially been restricted to resorts and safaris, and later quarantine facilities holding inbound travelers, Male' City identified its first coronavirus case on April 15, prompting a city-wide lockdown and a nationwide ban on nonessential travel.
The populous Male' City has since become the epicenter of the coronavirus outbreak in the country, contributing to over 90 percent of the total cases.
Maldives has recorded 2,617 coronavirus cases, along with 2,238 recoveries and 13 fatalities.
https://en.sun.mv/61639