The first female multi-stage cycling race started in the central province of Bamiyan with 46 cyclists from Ghazni, Faryab, Balkh, Kabul and Bamiyan provinces, and 12 will qualify for the national women's cycling team
Image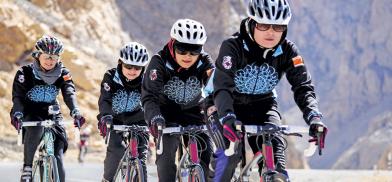 The first female multi-stage cycling race started in the central province of Bamiyan with 46 cyclists from Ghazni, Faryab, Balkh, Kabul and Bamiyan provinces, and 12 will qualify for the national women's cycling team. The cyclists will ride 30 kilometers starting from the outskirts of Baba Mountain into the Shibar district of the province.
Zahra, a female cyclist from Bamiyan province won the first phase of the race.
"I am very happy to win the first stage of the race, we can get more," said Zahra.
"We will gather the points from the first and second phase and will pick twelve frontrunners for the national team," said Fazel Ahmad Fazli, the head of the National Cycling Federation.
"We have to change the mindset and break the so-called tradition to secure a developed and prosperous society that is free of war," said Youldoz, a cyclist from Faryba province.
The race will continue on Thursday.
https://tolonews.com/sport/female-30k-cycling-race-starts-afghanistan