A clash between Indian and Chinese troops at Ladakh's Galwan Valley on 15 June rocked the dynamics between the world's two most populous nuclear powers. But it also drew attention to the involvement of soldiers from Nepal in the Indian Army
Image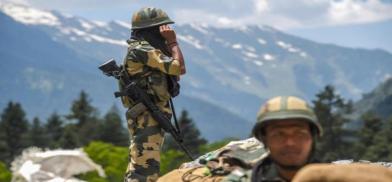 A clash between Indian and Chinese troops at Ladakh's Galwan Valley on 15 June rocked the dynamics between the world's two most populous nuclear powers. But it also drew attention to the involvement of soldiers from Nepal in the Indian Army.
The violence, in which 20 soldiers on the Indian side and an unknown number of Chinese troops were killed, raised questions about the geopolitical balance in South Asia — a region wracked by the COVID-19 pandemic and already political volatile.
 
Nepal's own border dispute with India over Limpiyadhura roughly coincided with the Galwan Valley clash, and was followed by Indian Army Chief Gen Manoj Mukund Naravane's comment that Nepal was "acting at the behest of someone else" – meaning China.  
But Nepal has even more at stake in India's disputes with China and Pakistan – there are over 30,000 Nepali Gorkha troops serving in the Indian army, many of them deployed in frontline positions along their borders.
The Indian Gorkha regiments are a legacy of recruitment of Nepali nationals into the British Army, and began after the Sugauli Treaty of 1816 between the East India Company and the Gorkha Empire.
The British raised 10 Gurkha regiments, one of them in 1815, even before the war ended. They fought alongside the Allies in both World Wars, with at least 50,000 killed in action. When India gained independence in 1947, four regiments stayed with the British Army and six were retained by the Indian Army. Currently, the Indian army has 7 Gurkha regiments.
The poorly demarcated 'Line of Actual Control' that separates India and China has caused major clashes to break out at least three times after 1962. The confrontation this month was the most serious yet.
There is no official breakdown of the numbers of Gorkhas in the Indian Army who died in the Sino-Indian War of 1962 along the Himalaya, but an estimated 2,000 soldiers on the Indian side were killed. Of the 4,000 Indian Army POWs, an estimated 700 were Gorkha troops.  
Although no Nepalis were killed in the Galwan Valley clash, soldiers who had come home to Nepal on leave were hastily recalled earlier this month to join troop transport at the border. They had to travel there from Palpa, Syangja and other districts despite the lockdown.
Last week, a Nepali soldier in the Indian Army, Dilip Karki from Gulmi, was killed in an exchange of gunfire on the India-Pakistan border in Jammu and Kashmir – the latest fatality among Nepal's frontline troops in India.  
After the 'war of the maps', India and Nepal have both committed to de-escalate the Limpiyadhura dispute through talks, but Nepal's Foreign Minister Pradeep Gyawali says India has not responded to several diplomatic letters asking for negotiations to begin.
Prime Minister K P Oli's statement on Sunday, in which he accused India of trying to topple him, may have been meant to distract attention from problems within his own party, but it will not help clear the air with Delhi.
Nor will an interview in which Defence Minister Ishwar Pokhrel said the Indian Army Chief had hurt the sentiments of Nepal's Gorkha soldiers who "lay down their lives to protect India".
The nuances of this sensitive geopolitical triangle between India, Nepal and China are aptly summarised in a recent tweet by Ashok Swain Indian Professor of Peace and Conflict Studies at Uppsala University in Sweden: 'The Galwan Valley was saved for India from China in 1962 War by Nepali Gorkha soldiers, under Naik Subedar Jung Bahadur Gurung! The same Galwan Valley has been taken over by China in the same week when Modi engaged in a bitter land dispute with Nepal.'
One of the demands of Nepal's Maoists when they were underground and fighting the monarchy was to stop British and Indian recruitment of Nepalis into their militaries. Some of the same Maoists are now a part of the ruling Nepal Communist Party.
"Various factions of the left movement of Nepal have time and again called for the stopping of the Gurkha recruitment. They cite the fact that Nepali citizens are hired to fight someone else's war," explains Nishchal Nath Pandey at the Centre for South Asian Studies. "Gurkha involvement in foreign wars can be especially controversial, given Nepal's non-aligned foreign policy."
 
Although the reasoning for the termination of Gurkha recruitment may make sense, it will be unpopular in Nepal's hinterland where the recruit takes place. There is stiff competition to serve in the British and Indian Armies, and remittances and pensions from soldiers abroad form an important slice of Nepal's economy.  
In 2017, the Manohar Parrikar Institute for Defense Studies and Analyses in India estimated that Indian Gorkha regiments remit $1 billion a year to Nepal, with pensions and arrears making up another $800million.
It may be an anachronism for nationals of one country fighting and dying for another, especially when they are one side of a confrontation with another friendly neighbour. But Nepal's rulers appear to have calculated that the country cannot afford to lose remittances from the Indian and British Armies, especially when the country's economy is down due to the pandemic.
Pandey adds, "Remittances they have sent to Nepal have transformed rural economy. Dharan city, the districts of Lamjung and Kaski are prime examples of the glory and affluence of the families of Nepali soldiers serving in foreign armies."
Ending Gurkha recruitment could also damage the Gurkha reputation for valour and bravery, and impair its relations with India and Britain.
Bhaskar Koirala at the Nepal Institute for Strategic Studies says: "If the NCP insists that Nepalis should not be allowed to enlist in Gorkha regiments in India, they should publicly assert that Gurkha recruitment should also not take place into the British military."
Koirala doubts that the recruitment into the British Army's Brigade of the Gurkhas will be stopped. He says: "Gurkhas are an international icon of Nepal and they should be treated as such. They are not a political card that can be manipulated and traded and dealt by politicians in Kathmandu."
Meanwhile, many in India see Nepal as now being firmly in the China camp, while the Nepal government has not done enough to allay that view. In fact, with Oli's statement on Sunday, he has reinforced it.
Experts say Nepal must adhere firmly to one of its important foreign policy pillars – equal and friendly ties with both giant neighbours and a peaceful settlement of disputes. In fact, there might even be a role for Nepal in mediating between India and China.
The India-China border dispute could be Nepal's chance to solidify its role as an intermediate power, fixing strained relationships with India and making headway with China, thereby getting on the good side of both the Asian hegemons.
https://www.nepalitimes.com/latest/gorkhas-on-the-frontline-between-india-and-china/