Since Bangladesh is among the lowest testing countries, Rohingyas living in these makeshift camps are largely deprived of testing for COVID-19, writes Shanjida Shahab Uddin for South Asia Monitor
Jun 17, 2020
Image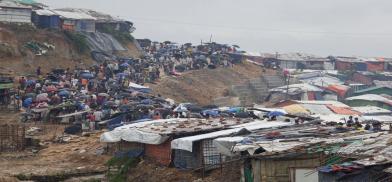 Escaping ethnic cleansing of the Burmese army, millions of Rohingyas had been fleeing to Bangladesh since the 1980s. The latest wave of Rohingya influx has flooded the makeshift camps, which were already packed with former Rohingyas. Although the Bangladesh government tried its best to build extended temporary camps to accommodate the fresh influx, still it is not sufficient. Being one of the largest displaced people's camps in the world, these makeshift Rohingya camps see massive density of people, poor sanitary conditions, food insecurity, and pitiable condition for maintaining personal hygiene. With this already dire situation, the spread of the latest pandemic – the novel coronavirus (COVID-19) may work as bushfire, which will only escalate the crisis. 
The first COVID-19 case was confirmed in mid-May in a Rohingya, who lived in the Kutupalong-Balukhali extension camp. As of June 9, 2020, this number has increased to 27 confirmed cases found in different Rohingya makeshift camps. As the number of COVID-19 cases is on the rise in Bangladesh, around 10 million Rohingyas, currently living in 34 different makeshift camps, are going to face critical situations ahead. Although, Bangladesh government and humanitarian agencies took several steps to break the chain of transmission of this deadly virus in these camps, the implementation of social distancing will be a tough task. As around 40,000 Rohingyas live per square kilometre with around 10 family members in a room in a hut-like establishment made of bamboo and plastics in these makeshift camps, and where maintaining social distancing is a difficult task to implement. 
Since Bangladesh is among the lowest testing countries, Rohingyas living in these makeshift camps are largely deprived of testing for COVID-19. Limited testing capacity is making the actual situation in these camps worse. This will ultimately lead to a massive health crisis in these makeshift camps. Since the number of confirmed cases is rising among Rohingyas, it will make this humanitarian crisis much worse and lead to thousands of deaths. So far, two deaths have been reported, while there is a rise in the number of cases.
Malnourishment is a prominent feature in almost all Rohingya refugee children. Due to decades of persecution, these malnourished children are at high risk of getting infected with this deadly virus. Besides, humanitarian agencies who were earlier giving nutrition care to moderate and acutely malnourished children are now scaling down their regular facilities in order to ensure social distancing norms. Many other nutrition centers in the makeshift camps are temporarily closing their operations due to the lockdown. COVID-19 is also disrupting regular food supplies to these camps. Food supply has always been very limited from the beginning because people here do not have proper jobs and are mostly dependent on the local governments and international humanitarian agencies' aid for their needs. With the outbreak, getting a job has become harder for these Rohingyas. And due to lockdown and other safety measures, like social distancing, Rohingyas, who had jobs earlier, are losing them too. 
Poor hygiene and no internet 
Even during the normal time, Rohingyas living in such cramped living conditions had limited access to water, so frequent handwashing for disinfecting to curb the transmission of COVID-19 seems a luxury for these ill-fated people. Access to soap or handwash gel is a fantasy for them whereas these things are necessary to use frequently for curbing the spread of COVID-19. Since Rohingyas are dependent on the community-based distribution of drinking water, they have to wait in a long queue for hours to collect water. In this miserable situation, it is frustrating for them to manage water for only hand washing. 
To stem the spread of this virus, the Bangladesh government imposed a complete lockdown of all 34 makeshift camps from March 23, 2020. During the lockdown, all wash and hygiene programs carried out by different humanitarian and local agencies also became limited. In this 'normal' to 'limited' modality, humanitarian agencies and local agencies had to reduce the presence of their staffs who were responsible for regular monitoring, training, and distributing wash and hygiene products to the Rohingyas. House to house visit was an important monitoring tool which was used to ensure the maintaining of proper hygiene. But in this current situation, the implementation of this important monitoring tool will be a difficult task.
Awareness building has also been hampered because of the absence of the internet. Due to security purpose, the Bangladesh government has banned using the internet for Rohingyas since September 2019. This situation has made their situation worse. In this time of COVID-19, use of the internet can play a huge role in disseminating the latest information on COVID-19, awareness building and accessing healthcare through online doctors' consultancy. 
Women and children worst sufferers
Another disturbing issue is the worsening situation of women and children due to the complete lockdown. Men are losing their jobs and staying at home all day. No job coupled with the frustration of staying at home for an uncertain period of time is leading to stress and insecurity among the menfolk. This also may lead to a rise in illegal and criminal activities, sexual violence, domestic violence, and child abuse. 
The Rohingyas face many challenges during this outbreak in the camps, from difficulty in implementing social distancing norms, to cramped camps packed with millions of people, to water scarcity, and poor water and sanitation system.  Government and humanitarian agencies can use selected locations to distribute food, water, and healthcare products to avoid mass gathering. Government and humanitarian agencies need to work hand-in-hand to establish temporary washing points, selected distribution points for hygiene kits, and selected points for water collection. Scaling up the distribution of hand sanitizing kits is a necessary need in various selected points across all 34 makeshift camps. Increasing the supply of water is another crucial need in this time of need. The local authority needs to pay attention to this issue. Baby food and other nutritional food for moderate and acutely malnourished children and pregnant women need to be systematically distributed in selected points by following strict social distancing rules.
Another crucial challenge is poor health care facilities. Even though the government, humanitarian agencies and aid groups have confirmed they have prepared limited numbers of isolation beds and have trained health staffs to tackle the situation, these are not enough for millions of Rohingyas. Therefore, the government with the help of the aid groups and humanitarian agencies need to take prompt action in preparing well-functioning testing lab and isolation centers, ICUs and sufficient PPEs for the frontline health workers.
Although, it is not easy to implement all these measures, the government has no other choice but to work round the clock to protect one of the most vulnerable communities of the world from this deadly virus. 
(The writer is a Research Officer at Bangladesh Institute of International and Strategic Studies (BIISS). The views expressed are personal.  She can be contacted at shanjidashahabuddin@gmail.com)