Gulbuddin Hekmatyar, a former Afghan warlord and leader of the Hizb-e-Islami party, demanded the formation of an interim government in Kabul, reported by Tolo news
Image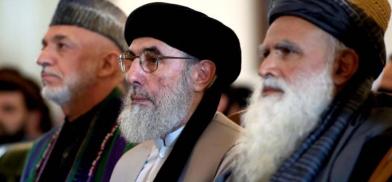 Gulbuddin Hekmatyar, a former Afghan warlord and leader of the Hizb-e-Islami party, demanded the formation of an interim government in Kabul, reported by Tolo news. Addressing a press conference after returning from his three-day visit to Pakistan, he said the Taliban has not recognized the present Kabul government so the formation of an interim government is the only solution.
Interestingly, Gulbuddin Hekmatyar is a member of the Afghan government-appointed negotiation team who is currently discussing peace with the Taliban in Doha, Qatar. Earlier also he openly called the Taliban to join hands with his party to form the government in Afghanistan on the basis of shared ideology. 
Assuring to play a positive role, Hekmatyar said Pakistan has assured him of continuous serious support to bring peace to Afghanistan. On deteriorating security in Afghanistan, he blamed the Afghan government saying it's the job of the government to provide security to the people.
Calling the Afghan republic team who are negotiating with the Taliban in Doha, as a team of the President Palace, he said the Doha talks are not intra-Afghan dialogue.  
Hekmatyar, who was once the favorite of Pakistan's establishment to rule Afghanistan until the emergence of the Taliban in 1994, accepted the legitimacy of the Afghan government post-2001 but kept opposing the presence of foreign troops in Afghanistan. He also waged the low-level insurgency against the presence of western force in Afghanistan but reconciled with Ashraf Ghani led the Afghan government in 2016. 
During his three-day trip to Pakistan, Hekmatyar met with top Pakistan leadership, including prime minister Imran Khan and ISI chief. In a press conference in Islamabad, he said the US has no choice but to leave Afghanistan as they have been defeated in the country.