Afghan officials believe there would be no durable peace sans justice. In a ceremony titled "National Summit of Justice and Peace" the Afghan officials said a robust peace is only possible when there is justice across the country
Image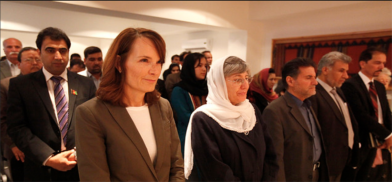 Afghan officials believe there would be no durable peace sans justice. In a ceremony titled "National Summit of Justice and Peace" the Afghan officials said a robust peace is only possible when there is justice across the country.
The event was organized by 'Salah", or (Peace), it is a non-government organization and attended by a number of governmental and non-governmental officials, including civil society activists.
Speaking to the participants, President's Special Envoy and State Minister for Human Rights and International Relations, Sima Samar said access to justice is very important because injustice "leads to the violence".

http://www.afghanistantimes.af/no-durable-peace-without-justice/