A Dhaka court has opened the trial of former chief justice SK Sinha and 10 others on charges of loan fraud and embezzlement of Tk 40 million from the Farmers Bank
Image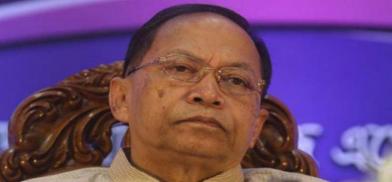 A Dhaka court has opened the trial of former chief justice SK Sinha and 10 others on charges of loan fraud and embezzlement of Tk 40 million from the Farmers Bank.
Judge Sheikh Nazmul Alam of Dhaka's Special Judge Court No.4 on Thursday framed the charges against Sinha in absentia and fixed Aug 16 for recording witness testimonies.
Mahbubul Haque Chisty alias Babul Chishti, the former chairman of Farmers Bank's audit committee who is also accused in the case, was brought to the court from jail for the hearing.
KM Shamim, former managing director of Farmers Bank, renamed Padma Bank, and its former senior executive vice president Gazi Salauddin, both of whom secured bail in the case, also attended the hearing.
Ruhul Islam Khan, the lawyer for the Anti-Corruption Commission, read out the charges to the three accused, all of whom pleaded not guilty.
Their lawyers also appealed for the charges to be dropped against them but the judge framed the charges against the 11, including the eight absconding suspects, and ordered the initiation of the trial.
The ACC started the case against Sinha and the 10 others on Jul 10, 2019.

https://bdnews24.com/bangladesh/2020/08/13/ex-cj-sinha-10-others-indicted-over-farmers-bank-scam