A tribunal in Bagerhat has delivered its verdict in a rape case in just seven work days, setting what experts said was a record for the fastest disposal of a criminal case
Image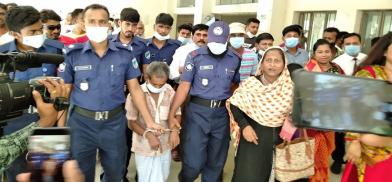 A tribunal in Bagerhat has delivered its verdict in a rape case in just seven work days, setting what experts said was a record for the fastest disposal of a criminal case.
The district's Women and Children Repression Prevention Tribunal-2 yesterday sentenced 53-year-old Abdul Mannan Sardar to life in prison along with a fine of Tk 20,000 for raping a seven-year-old girl in Mongla upazila.
Law Minister Anisul Huq said the quick disposal was a reflection of the government's sincerity in ensuring justice within a short period of time. But some legal experts said the accuracy of trial proceedings will come into question if they are conducted in a hurry.

https://www.thedailystar.net/frontpage/news/rape-verdict-7-working-days-1981029