Chinese construction company Shanghai Construction Group has donated 20,000 masks to the Maldives among other equipment to combat COVID-19
Image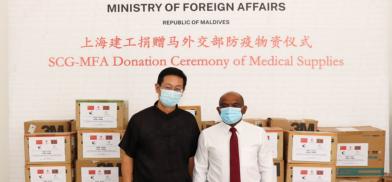 Chinese construction company Shanghai Construction Group has donated 20,000 masks to the Maldives among other equipment to combat COVID-19.
The equipment was handed over by Chinese Ambassador Zhang Lizhong. Foreign Minister Abdulla Shahid received the equipment on behalf of the Maldives.
Other than the masks, 500 suits and 10,000 gloves were also donated by the company.

https://en.sun.mv/62886