Hamza Ali Abbasi-starrer Parwaaz Hai Junoon will debut in China on November 13, shortly before the 70-year anniversary of the day when Pakistan and its key ally established diplomatic relations
Image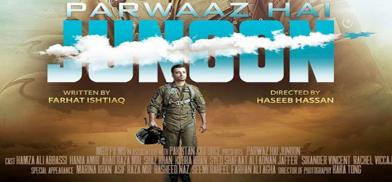 Hamza Ali Abbasi-starrer Parwaaz Hai Junoon will debut in China on November 13, shortly before the 70-year anniversary of the day when Pakistan and its key ally established diplomatic relations.
The aerial combat-war film, with a touch of romance, honours the Pakistan Air Force (PAF) and the pilots who put their lives at risk to protect the country's citizens.
According to CGTN journalist Shen Shiwei, the Haseeb Hassan-directed movie features "JF-17, a fourth-generation fighter jointly developed by #China and #Pakistan".
https://www.thenews.com.pk/latest/733642-pafs-parwaaz-hai-junoon-first-pakistani-film-to-be-released-in-china-after-40-years