A record number of Indian Americans won the election as lawmakers to US state houses. Twenty of them from 13 states won the election as state representatives and senators
Image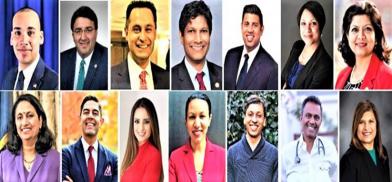 A record number of Indian Americans won the election as lawmakers to US state houses. Twenty of them from 13 states won the election as state representatives and senators. In addition, they are a few current representatives whose terms end in 2022 and 2023. New York would have the highest number with two senators and two representatives, followed by Michigan and Washington with three representatives each. New Jersey,  Connecticut and North Carolina have two each and the remaining states with one each. Among the winners, three are Republicans, the remaining are Democrats.
The winners at the elections are:
Connecticut State Rep. Raghib Allie-Brennan (D), CT 2nd District
Ohio State Rep. Niraj Antani (R) Ohio Senate District 6
Connecticut State Rep. Harry Arora, (R) CT 151st District
North Carolina State Senator Jay Chaudhuri (D), NC State Senate District 15
Jeremy Cooney (D), Rochester, New York, NY State Senate District 56
California State Rep. Ash Kalra (D), CA 27th District
Kentucky State Rep. Nima Kulkarni (D), KY 40th District
Tennessee State Rep. Dr. Sabi Kumar (R), TN 66th District
Michigan State Rep. Padma Kuppa (D),  MI 41st District
Zohran Mamdani (D), NY State Assembly 36th District
New Hampshire State Rep. Latha Mangipudi (D), NH 35th District
NC State Senator Mujtaba A. Mohammed (D), NC State Senate District 38
Ranjeev Puri (D),  Winner of MI House of Representatives 21st District
Jenifer Rajkumar (D),  Winner of NY State Assembly 38th District
Kesha Ram (D), Burlington, Vermont, VT State Senate Chittenden District
Dr. Nikil Saval (D),  Philadelphia, Pennsylvania, Winner of PA State Senate 1st District
Arizona State Rep. Dr. Amish Shah (D),  AZ 24th District
Washington State Rep. Vandana Slatter (D),  WA 48th District
Shri Thanedar (D),  MI State House of Representatives 3rd District
Senator Kevin Thomas (D),  NY State Senate District 56
All four sitting Indian Americans -  Dr Ami Bera, Pramila Jayapal, Ro Khanna and Raja Krishnamoorthi — have been re-elected to the US House of Representatives. They are popularly known as the 'Samosa Caucus'. The Indian-American community has emerged as a force to reckon with for the first time in the history of the US presidential election, with both the Democrat and the Republican campaigns initiating several measures to woo the approximately 1.9 million members of the community who were seen to have emerged as a critical voting bloc in the battleground states of Florida, Georgia, Michigan, North Carolina, Pennsylvania, and Texas.
GOPIO Chairman, Dr. Thomas Abraham, has emphasized the need for Indian diaspora to come together and help elect more Indian American candidates at future elections. 
"As a broad-based community organization, we at GOPIO want to provide a bipartisan platform to bring all statewide Indian American elected lawmakers and we are hoping that this would motivate more Indian Americans to join the political leadership process especially young Indian Americans," said Dr. Abraham