The enhanced allocation of resources serves as a signal to both Iran and Afghanistan that India is ready to walk the talk and hasten the completion of the project, especially at a time when the almost complete Gwadar port in Pakistan received its first container shipment, in mid-January, writes  Nilova Roy Chaudhury for South Asia Monitor
Feb 06, 2020
Image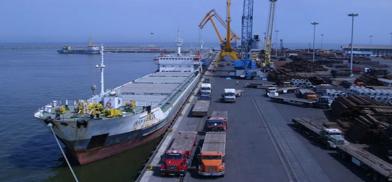 There has been an increase in India's budgetary allocation to build the Chabahar port in Iran, clearly signalling New Delhi's interest in and intent to press ahead with development work at the port which is vital for India's strategic interests in securing an alternative route to landlocked Afghanistan and, thence, to Central Asia and even Russia.
Despite strict American sanctions on Iran, India has managed to acquire a waiver for the Chabahar port project. With Washington accepting the vital nature of the port project and connecting rail link from Chabahar to Zahedan on the Iranian border, from where it would proceed to Delaram and create an alternate route to Afghanistan, completely bypassing Pakistan, India has moved to allocate funds. There has been a marginal decrease in the budget for the Ministry of External Affairs (MEA) - INR 1 billion has been earmarked for the strategic port, up from the INR 450 million kept aside in last year's budget.
However, despite the crucially important nature of the project, whether India can actually proceed with work on the Chabahar project is increasingly moot, given the very tense situation on the ground in the region following the US-ordered killing of Iranian General Qassem Soleimani on January 3.
Indian companies, concerned at the prospects of violence and the possibility of being sanctioned, despite written assurances from the US during the India-US 2+2 meeting of foreign and defence ministers in December, have not exactly been rushing to reach Chabahar. Washington had even pledged to facilitate global banks to help Indian companies fund the purchase of equipment for Chabahar, but the expected queues lining up to undertake those projects are absent.
The enhanced allocation of resources serves as a signal to both Iran and Afghanistan that India is ready to walk the talk and hasten the completion of the project, especially at a time when the almost complete Gwadar port in Pakistan received its first container shipment, in mid-January. It is also a way of signalling support to Kabul at a time, when the elected Afghan government continues to be kept out of the peace negotiations between the US Special Representative Zalmay Khalilzad and the Afghan Taliban, that New Delhi is committed to remain invested in Afghanistan despite strenuous efforts to keep it out.
It is also, particularly for the Narendra Modi-led government in New Delhi, an important chance to cock a snook at  Islamabad in securing a bypass route to Afghanistan, making the completion of the Chabahar port and link railway project strategically imperative.
India had first signed on to the project in 2003, during the tenure of the first NDA government. Although a terminal has been opened at Chabahar port, lack of adequate connectivity has ensured that facilities are minimal and even those are under-utilised, as the MEA revealed in a response to Parliament. The first consignment (from Afghanistan) to India through Chabahar port was in February 2019. "Subsequently, it has sent four more consignments to India through Chabahar port," the ministry's reply read.
This, despite MEA spokesperson Raveesh Kumar briefing the media that, "There is lot of good news coming out from that port. The port has commenced operation over a year ago, from December 2018. Since then we have had almost 4500 containers, which has moved between the two countries, between India and Chabahar port, almost half a million cargo has moved. What we are working now with Iran is to how we can further enhance the connectivity, how we can take it forward, how we can use this connectivity to expand also our trade links with Central Asia".
At the 19th meeting of the India-Iran joint economic commission, held in Tehran in January between External Affairs Minister S. Jaishankar and his Iranian counterpart Javad Zarif, both pledged to hasten and expand connectivity from Chabahar port. A trilateral meeting between senior officials from India, Afghanistan and Iran was also held recently on Chabahar port at which a variety of modalities to help proceed towards completion of the project were finalised.
Since the raised budgetary allocation for Chabahar was made after Jaishankar and Zarif met after the Soleimani assassination, it remains to be seen whether the signalling of intent was premature, and perhaps foolhardy, or whether, having factored in the regional tensions adequately, India will be able to finally fulfil its commitment.
(The writer is Editor, India Review & Analysis)