China's message to India is loud and clear that it has absolutely no intention to withdraw soon. It has also proved that the collusive support of China and Pakistan to each other against India has been translated into reality, writes Lt Gen Rameshwar Roy (retd) for South Asia Monitor 
Jun 17, 2020
Image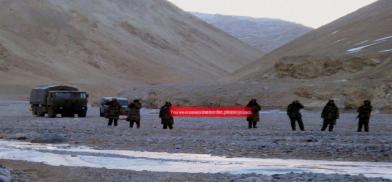 It has been nearly six weeks when China's ingress in eastern Ladakh into Indian territory was first reported at 4-5 points stretching from north to south going beyond even China's own perceived Line of Actual Control (LAC). In the absence of any authentic official response or statement by the Government of India, speculations and imaginations have been given way. Three years since the infamous Doklam standoff that lasted 73 days from 16 June to 28 August 2017, this is yet another instance of reported occupation of Indian territory by Chinese People's Liberation Army (PLA) leading to another round of standoff.
Continuing to remain either under the shadows of the 1962 war with China, or India's action at Nathu La in 1967, the PLA has come a long way, coming out of their crushing defeat at the hands of Vietnam in 1979 and carrying out its military modernisation to catch up not only in equipment and latest technologies, but also up gradation of its skilled manpower. Capability enhancement has been synchronized with reduction in manpower and force multipliers in PLA's field forces. This has been backed up by a huge upgradation of infrastructure across the entire Tibetan Plateau. All these factors put together have caused the overall differential to tilt in China's favour as far as a comparison of tangible assets is concerned.
Assertive and coercive display of power by China might appear a routine matter of display on the surface, though, a deeper analysis would reveal its strategic and well thought out plan and purpose. China has always been uncomfortable ever since India started activation of its military airfield at Daulat Beg Oldi (DBO) situated at an altitude of 5,065 metres (16,700 feet) in May 2008, and, its build up as a composite base on long-term basis. The landing of the C-130 Hercules was then noticed by the Chinese.
India needs to understand that construction of the Darbuk-Shayok-DBO road along, with regular maintenance and upgradation of this all important strategic composite base at DBO, was bound to provoke and invite greater attention and reaction in times to come from the PLA. This, in a way, should have been appreciated as a natural consequence of India's actions that it seems to have failed to anticipate and cater for.
It needs to be kept in mind that DBO is the key to domination in this area over Depsang Plains, Karakoram Pass, China-Pakistan Economic Corridor (CPEC) and, most importantly, Siachen Glacier.
Came the August 5, 2019 decision on Jammu & Kashmir and Ladakh, India's bold move to becoming proactive over its rights over Pakistan Occupied Kashmir (PoK), particularly the areas of Gilgit and Baltistan. Of late, the Indian Meteorological Department began including areas of Gilgit and Baltistan as part of its daily weather forecast bulletin. It needs to be borne in mind that a vital portion of CPEC passes through PoK. In the background of many connected developments, it was only a matter of time before India should have expected and been prepared for the Chinese to make their first move in this area. The terrain in mountains call for protection of one's own flanks for long-term sustainability of a force.
 Hence, the northern portion of the Pangong Tso appears a pivotal location. The process of consolidation should have then stretched itself further down south up to Demchok.
The Chinese are here to stay 
The battle of confluences, where valleys and rivers meet is reflected in the Galwan-Shayok river confluence and its valley that offers an ideal area of domination over axis of maintenance passing through this valley. A deeper ingress into this valley too would be called for in order to consolidate strategic gains on a permanent basis. It appears that having made plans and rehearsing them before implementation, the PLA was very well prepared and ready for action to change the status quo on the LAC like never before.
It was only a matter of time before China moved in, which it finally did around six weeks back. The aftermath of COVID-19 has provided just the perfect timing for these operational plans to be put into effect. China's PLA simply took cover of its summer exercise manoeuvring to reach the well-planned objective without firing a bullet as is their war strategy of winning wars without fighting.
Whether India accepts or denies, China is here to stay, since they have achieved their strategic objectives of denying India the advantage of  DBO and domination over the Karakoram Pass as well as the Depsang Plains. Beijing has also made New Delhi vulnerable over its prolonged occupation of the Siachen Glacier and in securing its CPEC, the flagship project of BRI. Finally, they will be realigning the LAC from south to north along the lines mentioned above and overlooking the road to DBO.
What has India done to counter China? It has built up forces to stop PLA's further ingress but appears to have no plans to undertake an offensive to evict China from these illegal encroachments, with an apprehension that if at all it does, the escalatory ladder of war shall become a reality. India is engaging in dialogue to resolve the issue. This will be an uphill task since the aggressor is sitting on India's land with no intentions to vacate. 
Surprisingly, military-to-military talks have preceded diplomatic parleys, instead of it being the other way around. Is this not a rather strange way of conflict-resolution mechanism? The 22 rounds of border talks in years have not resulted in any tangible result except for fruitless Confidence Building Measures (CBMs). Indeed, they have only given more confidence to China to trespass and grab neighbour's territory at its will and choosing. There is scant hope in this setting.
Collusive support  of Pakistan 
Since 6 June 2020, we have now been hearing the news of de-escalation process that had been started with talks between Corps Commander Lt General Harinder Singh of  Leh Based 14 Corps and China's Major General Liu Lin, Commander of South Xinjiang Military Region. However on the night of 15 June 2020, the de-escalation process took a major spin when a colonel and two soldiers from Indian Army were killed by the PLA in Galwan valley in a 'violent faceoff'. 
A day later came the news that a total of 20 Indian Army soldiers have been killed. Although the process of talks are still going on, it could be any one's guess as to where that would be heading. Although at this point of time even Indian options are very limited.      
China's message to India is loud and clear that it has absolutely no intention to withdraw soon. It has also proved that the collusive support of China and Pakistan to each other against India has been translated into reality with the latest intervention of China in eastern Ladakh and changing of status quo pertaining to the LAC. In conventional terms, the two-front war is no longer a matter of speculation as far as India is concerned.
(The author is a retired Indian Army veteran and was GOC 16 Corps, Nagrota and the DG, Assam Rifles. The views expressed are personal. He can be contacted at bunbun.roy@gmail.com)