Changing our transport behaviour is therefore the need of the hour. It becomes imperative that cycling and pedestrian walking is fully integrated with our existing public transport systems, writes Pankaj M Munjal for South Asia Monitor
Aug 08, 2020
Image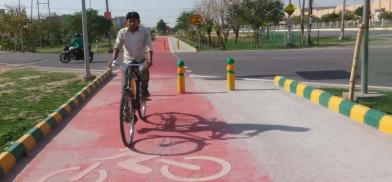 The global movement to promote cycling and walking has become an unlikely beneficiary of the COVID-19 outbreak. The environmental benefits witnessed during a global lockdown and the need for restricting crowding on public transport has provided a new thrust to cycling and walking. Certain 'shock events' have in the past boosted the cycling culture in several countries. While an oil crisis paved the way for a cycling movement in the Netherlands, an economic crisis did the same for Denmark in the 1980s. The coronavirus crisis is proving to be another such 'shock event' in global history.
Sales of traditional cycles as well as electric cycles are soaring, effectively supported by an urban planning re-think in favour of non-motorized transport. Paris has readied 650 km of cycleways, a special lane reserved for public transport on which cyclists are also allowed to bike. This includes a number of pop-up "corona cycleways" to reduce the usage of public transport and personal cars. London, Milan, Bogota, Mexico City are devising similar plans of their own.
In India – home to some of the world's most polluted cities – a countrywide lockdown gave us a glimpse into the environmental gains that can be accrued by restricting motorized transport. As we enter the unlock phase, this is just the time for our urban planners, transportation policy experts, and associated government bodies to seize the opportunity. Instead of letting things relapse into the chaotic, poorly-run traffic management systems, it is time we reset our urban transport and redefine the very idea of urban mobility.
Changing transport behaviour 
The rampant, unplanned, and unbridled urbanization and its ramifications on cities' transport networks is common knowledge. Rush-hour traffic has been a perennial nightmare. A joint report published by Transport Corporation of India (TCI) and Indian Institute of Management (IIM) Calcutta estimated that everyday congestion and traffic delays in Indian cities cost the economy about $ 6-7 billion every year. The health implications are far too obvious. An Indian Institute of Technology (IIT)-Kanpur study looking at air pollution in Delhi had estimated that nine percent of PM 10 levels and a whopping 20 percent of the deadly PM 2.5 levels in the atmosphere were on account of vehicular emissions. A telling report by Greenpeace South Asia in February 2020 stated that about a million deaths occur in India every year because of exposure to fossil fuels. In economic terms, pollution due to fossil fuels cost India about US$ 150 billion or 5.4 percent of its GDP.       
Changing our transport behaviour is, therefore, the need of the hour. It becomes imperative that cycling and pedestrian walking is fully integrated with our existing public transport systems. In other words, it is high time that the pedestrians and cyclists were given their rightful space on our roads.
Democratisation of road spaces
Reimagining our roads essentially amounts to redesigning our cities and therefore the need for a multi-agency cooperative framework including civic agencies, transport bodies, water authorities as well as local governments. Apart from the broadening of roads and adequate allocation and enforcement of pedestrian and cycling tracks, there is a need to establish an organic linkage between existing railway, metro, and bus services with cycling. The practice of bike-sharing and easy bike rentals at transit stations should be encouraged as a norm. To not interfere with regular bus traffic and to ease congestion, bike paths could be diverted behind bus stops. Heavier and more voluminous modes of transport such as big buses and trains should be designed and built in a way that they can also carry cycles. Manufacturing of foldable cycles will further help in addressing the last mile connectivity problem.
Unrelenting weather, lack of cycling infrastructure, and an absence of cycling culture are major challenges that have prevented the adoption of cycling beyond recreation in Indian cities. Making it mandatory to create dedicated and safe cycling lanes across cities, in residential areas, in recreation parks, will overcome a major part of the above challenges. Cycling tracks covering busy streets must be made mandatory in all cities. Smart cities must make smart transport bedrock of their urban infrastructure and cycling must be a major element in this transformation. As more and more people start taking to cycling, the behavioural and cultural hurdles will automatically be overcome.
Going forward, these cycling lanes can be designed to be accompanied by treeways (in many western countries like US, and UK  while planning and designing cycling infrastructure they also plan where to plant trees along the cycling track) to address the weather-related challenge. Promoting electric cycles by subsidizing their costs and incentivizing people to cycle to work can also play a major role in bringing out a behavioural shift towards non-motorized transport. While this cannot be achieved overnight, a sustained movement needs to be created starting now.
COVID-19 has offered a unique opportunity to give a solid thrust to the idea of greater democratization of road spaces. Our road networks must be re-designed and regulated in a way that facilitates proportionate usage by all – pedestrians, cyclists, car users, and people of all ages, health conditions, and economic status.
(The writer is Chairman and Managing Director of Hero Motors Company (HMC). The views expressed are personal)