Indian Prime Minister Narendra Modi on Saturday flayed certain opposition parties for "playing dirty politics" on last year's Pulwama terror attack in Jammu and Kashmir and urged all political parties "not to play in the hands of anti-national forces" trying to break the country
Image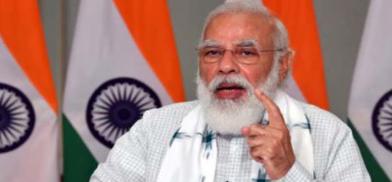 Indian Prime Minister Narendra Modi on Saturday flayed certain opposition parties for "playing dirty politics" on last year's Pulwama terror attack in Jammu and Kashmir and urged all political parties "not to play in the hands of anti-national forces" trying to break the country.
He said that when the entire nation was mourning the death of the brave soldiers in the Pulwama attack, some people indulged in dirty politics for their political gains.
Modi's  said that the "truth" behind the February 2019 Pulwama attack, in which 40 CRPF (paramilitary)personnel were killed in a car bomb attack, had been accepted in Pakistan Parliament.
Modi's remarks come days after Pakistan Science and Technology Minister Fawad Chaudhry admitted to his country's role in the Pulwama attack during a debate in the National Assembly.
Modi paid tribute to 'Iron Man Of India', Sardar Vallabhbhai Patel, for his contribution to national unity and integrity and said: "Today, 130 crore countrymen are working towards building a strong and competent nation wherein there is equality of all and immense opportunities.
"Only a self-reliant (Atmanirbhar) nation can be assured of progress as well as national security. Therefore, the country is moving towards becoming self-sufficient in the defence sector. Not only this, India's mindset and approach towards safeguarding its borders have also seen a considerable change," Modi said while speaking after paying tributes to Sardar Patel at the Statue of Unity at Kevadiya in Gujarat on his 145th birth anniversary.
  (IANS)