As the pandemic severely hits the economy, Prime Minister Narendra Modi said the rural economy of India is on a strong footing, bucking the overall economic slowdown, courtesy the "record" procurement of farmers' produce by the government
Image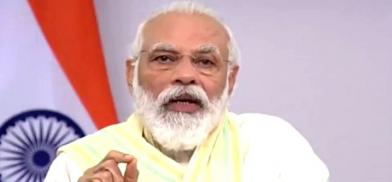 As the pandemic severely hits the economy, Prime Minister Narendra Modi said the rural economy of India is on a strong footing, bucking the overall economic slowdown, courtesy the "record" procurement of farmers' produce by the government.
Speaking at the launch programme of the Rs 1 lakh crore Agriculture Infrastructure Fund, Modi said it was due to the farmers that the country did not have to face problems in terms of essential food items during the lockdown.
"When the country was under lockdown, our farmers were harvesting their crop and were also making new records in terms of sowing," he said.
Modi added that the government assured record public procurement of the farmers' produce, leading to an increase of Rs 27,000 crore in the money transferred to the farmers.
He noted that the government plans to set up around 10,000 farmer-producer organisations (FPO) in the country.
On Sunday, Modi launched the Rs 1 lakh crore financing facility under the Agriculture Infrastructure Fund. The fund was announced by Finance Minister Nirmala Sitharaman as part of the Aatmanirbhar Bharat (Self-reliant India economic package in May.
It has been created for funding in agriculture infrastructure projects at the farm-gate and aggregation points such as primary agricultural cooperative societies, farmer producer organisations and agriculture entrepreneurs, among others.  (IANS)