After an almost three-month-long hiatus, Friday prayers were performed in capital Male' City today
Image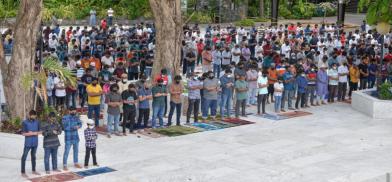 After an almost three-month-long hiatus, Friday prayers were performed in capital Male' City today.
Collective prayers in the capital and most populated city were suspended on March 18 following the identification of COVID-19 cases.
Collective prayers were recommenced on July 1, after mosques were reopened on June 14. However, the Friday prayers still remained suspended, until today.
After 114 days or three months and 22 days since the prayers were last performed. Friday prayers, as important as they are in Islam, holds a significant cultural and traditional value in the Maldives.
The sermon preached today focused on thankfulness and being grateful for the gifts of Allah. The sermon called for people to be thankful to God almighty for enabling everyone to gather and perform Friday prayers after the difficult ordeal undergone during the lockdown.
The sermon also reminded people of the importance of safety and restrictive measures against the virus since the Maldives was still not fully out of danger.
https://en.sun.mv/61619