The trial on the new charges raised against jailed former president Abdulla Yameen Abdul Gayyoom is scheduled to begin on Sunday. The hearing will take place at the Criminal Court at 10:00 am
Image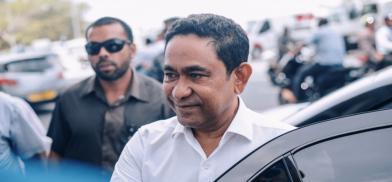 The trial on the new charges raised against jailed former president Abdulla Yameen Abdul Gayyoom is scheduled to begin on Sunday. The hearing will take place at the Criminal Court at 10:00 am.
The Prosecutor General has raised two new charges of bribery and money laundering against Yameen. He was charged with corruption offences relating to the leasing of R. Fushidhiggaru island to be developed as a resort island.
President Yameen is alleged to have received bribes amounting to US$ 1,117,000 through an individual named Ahmed Krik Riza, and is accused of laundering the funds via Sun Construction and Engineering, and Sun Investments. The Prosecutor General's Office said the charges were forwarded to the Criminal Court following a joint investigation by the police, Anti-Corruption Commission (ACC) and the Presidential Commission on State Assets Recovery.

https://avas.mv/en/87331