Four months after their last telephonic conversation, Prime Minister KP Sharma Oli and his Indian counterpart Narendra Modi held a telephonic conversation on Saturday
Image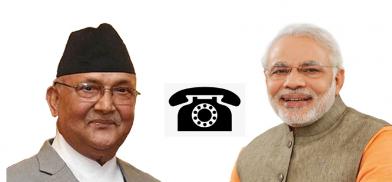 Four months after their last telephonic conversation, Prime Minister KP Sharma Oli and his Indian counterpart Narendra Modi held a telephonic conversation on Saturday.
Foreign Secretary Shanker Das Bairagi told the Post that Oli and Modi held talks on Saturday and that details would be made public by the Ministry of Foreign Affairs soon.
Sources said Oli called Modi to congratulate him on India's Independence Day.
India marked its 74th Independence Day on Saturday.
The conversation lasted around 10 minutes, according to the sources, and both leaders have agreed to continue mutual dialogue.
Besides exchanging the congratulatory message, both prime ministers also discussed bilateral matters.
https://kathmandupost.com/national/2020/08/15/oli-modi-hold-telephonic-conversation