Despite private school operators' reluctance to adopt new sets of curriculum for grades 11 and 12 in the new academic year planned to start after Tihar in November, the government is adamant on implementing them
Image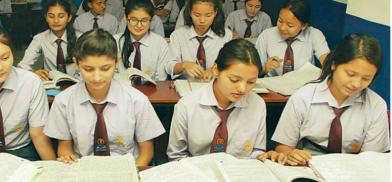 Despite private school operators' reluctance to adopt new sets of curriculum for grades 11 and 12 in the new academic year planned to start after Tihar in November, the government is adamant on implementing them.
"Let there be no confusion, the new curriculum for grade 11 will come into effect from this year," said Minister of Education Giriraj Mani Pokharel on Tuesday.
The new curriculum has been four years in the making since the eighth amendment to the Education Act in 2016 restructured school education with grade 1 to 8 categorised as basic education and grades 9 to 12 as the secondary education.
"The new curriculum was needed to integrate grades 9 to 12 because the existing curriculum for grades 11 and 12 is different to 9 and 10," said Ganesh Bhattarai, director at the Curriculum Development Centre.
https://tkpo.st/3bZIoyM