Thinking of trekking in Nepal? Be advised that there is a seven-day mandatory hotel quarantine before you will be allowed to hit the trail, and you will also need to get tested for COVID-19 at the beginning and end of the isolation period
Image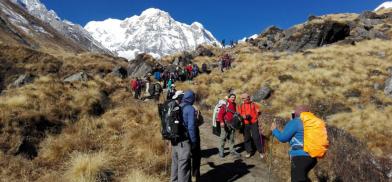 Thinking of trekking in Nepal? Be advised that there is a seven-day mandatory hotel quarantine before you will be allowed to hit the trail, and you will also need to get tested for COVID-19 at the beginning and end of the isolation period.
These are some of the requirements contained in the guidelines issued by the Tourism Ministry on Tuesday for foreign trekkers and mountaineers who will be allowed to visit the country from October 17.
Mountaineering and trekking agencies have criticised these 'conditional' health safety measures, saying that this 'harsh' treatment towards the tourism industry would discourage travel.
https://tkpo.st/30g2AIj