Fifteen countries, including five in South Asia, account for approximately two-thirds of the worldwide deaths linked to trans fat intake, the World Health Organization (WHO) has said
Image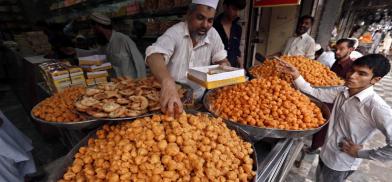 Fifteen countries, including five in South Asia, account for approximately two-thirds of the worldwide deaths linked to trans fat intake, the World Health Organization (WHO) has said. The five South Asian countries that need to urgently take action in this regard are Bangladesh, Bhutan, India, Nepal, and Pakistan.
Four countries -  Canada, Latvia, Slovenia, and the US - have implemented WHO-recommended best-practice policies since 2017, either by setting mandatory limits for industrially produced trans fats to 2 percent of oils and fats in all foods or banning partially hydrogenated oils (PHO).
But the remaining 11 countries -- Azerbaijan, Bangladesh, Bhutan, Ecuador, Egypt, India, Iran, Mexico, Nepal, Pakistan, and the Republic of Korea -- still need to take urgent action, said the UN agency.
The UN agency said that these 11 countries report most coronary heart disease deaths due to trans fat and have yet to take actions to eliminate the substances.
According to a WHO report, by 2020, South Asians will comprise 25 percent of the world's population but will suffer over 50 percent of the world's cardiovascular deaths. South Asians also have a 40 percent higher chance of mortality from heart attacks than the average population.
Consumption of industrially-produced trans fats are estimated to cause around 500,000 deaths per year due to coronary heart disease.
WHO reports that 58 countries so far have introduced laws that will protect 3.2 billion people from the harmful substance - industrially produced trans fats - by the end of 2021.
The data came after WHO's ambitious effort to eliminate industrially-produced trans fats from the global food supply.But more than 100 countries still need to take action to remove these harmful substances from their food supplies, said WHO.
"In a time when the whole world is fighting the COVID-19 pandemic, we must make every effort to protect people's health. That must include taking all steps possib      le to prevent non-communicable diseases that can make them more susceptible to the coronavirus, and cause premature death," said WHO Director-General Dr. Tedros Adhanom Ghebreyesus.
"Our goal of eliminating trans fats by 2023 must not be delayed."
Industrially-produced trans fats are contained in hardened vegetable fats, such as margarine and ghee, and are often present in snacks, baked foods, and fried foods. Manufacturers often use them as they have a longer shelf life and are cheaper than other fats. But healthier alternatives can be used that do not affect the taste or cost of food.
Countries, such as India, that have previously implemented less restrictive measures, are now updating policies to align with best practice, the UN agency said.