Despite Sindh government's directives that citizens would not be allowed to offer congregational prayers, including Friday prayers, gatherings were seen at Faizan-e-Medina — managed by a religious organisation Dawat-e-Islami, in Hyderabad's Effendi Town
Image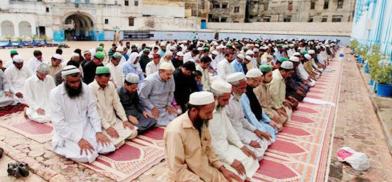 Hyderabad: Despite Sindh government's directives that citizens would not be allowed to offer congregational prayers, including Friday prayers, gatherings were seen at Faizan-e-Medina — managed by a religious organisation Dawat-e-Islami, in Hyderabad's Effendi Town.
A congregation was also reportedly held at a jamaat khana of the Bohra community in Burhani Nagar in Hyderabad. By the time the area's SSP arrived, people had returned home. Police and Rangers personnel were able to restrict congregations in other areas, however.
Four people offer Friday prayer inside Aurangzeb mosque in Hyderabad's Gari Khata area. Sindh government has allowed no more than five people to gather for ccongregations. — Photo provided by Hussain Khan
Meanwhile, major shrines in Hyderabad, including Qadam Gah-i-Maula Ali and Dargah Sakhi Abdul Wahab Shah Jillani — that are normally thronged by people — remained closed to visitors.