Pakistan wants the South Asian Association for Regional Cooperation's (Saarc) Covid-19 Emergency Fund to be administered by the bloc's secretary general and is seeking clarity about its utilisation
Mar 25, 2020
Image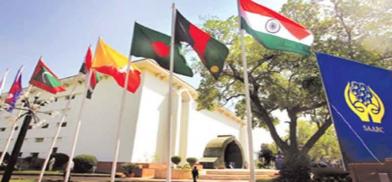 Islamabad: Pakistan wants the South Asian Association for Regional Cooperation's (Saarc) Covid-19 Emergency Fund to be administered by the bloc's secretary general and is seeking clarity about its utilisation.
The fund was announced by Indian Prime Minister Narendra Modi during the Saarc leaders' March 15 video conference on coronavirus pandemic and pledged $10 million for it.
The emergency fund is meant to assist countries in the region to deal with the pandemic. However, nothing was said about the administration of the fund and modalities for its utilisation.
All countries in the regional bloc, except Pakistan, have announced their pledges for the fund, which now cumulatively stands at $18.8 million. Besides India, other pledged contributions include Sri Lanka's $5m, Bangladesh's $1.5m, Nepal and Afghanistan's $1m each, the Maldives' $0.2m and Bhutan's $0.1m.
ARTICLE CONTINUES AFTER AD
Pakistan, which had participated in the conference, was also expected to make a pledge, but after clarity about the fund was achieved, a diplomat said. It is, moreover, feared that despite the announcement of commitments by most member countries, the pledges are unlikely to materialise as long as details of the fund are not finalised.
The fund was discussed during Foreign Minister Shah Mehmood Qureshi's telephonic conversation with his Bangladeshi counterpart A. K. Abdul Momen.
"Discussing the need to share resources, it was underlined that Saarc Covid-19 fund should be placed under the Secretary General of Saarc and modalities for its utilisation should be finalised through consultations at the earliest," the Foreign Office said in a statement.
Mr Qureshi reiterated Pakistan's readiness to host Saarc health ministers' conference to enhance cooperation among member countries and development partners in the health sector with particular focus on Covid-19.
Foreign Minister Momen expressed his government's readiness to participate in the health ministers' video conference.
Mr Qureshi has over the past few days spoken to his counterparts in Nepal, Sri Lanka and the Maldives. The countries in Saarc whose foreign ministers Mr Qureshi is yet to call are Afghanistan and India.
Talking by phone, FO spokesperson Aisha Farooqui said the foreign minister's calls to his counterparts were not limited to Saarc countries and he had reached out to other countries as well to discuss cooperation in the fight against the pandemic.
She said Mr Qureshi in his conversations with South Asian counterparts discussed the Pakistani proposal for a video conference of health ministers from Saarc countries and there was significant support for the idea.
FM Qureshi, meanwhile, spoke to his counterparts in Turkey, Spain and France and visited the Italian embassy in Islamabad. In all his conversations, he spoke about the continuing lockdown and communication blockade in India-held Kashmir that is making it difficult for Kashmiris to deal effectively with the pandemic, crippling US sanctions against Iran, and the need for debt relief for financially struggling economies.
Foreign Minister Arancha Gonzalez Laya of Spain said that the situation in Iran was discussed at the EU foreign ministers' meeting held on March 23. She said that the issue of debt relief to developing countries could be taken up at an appropriate forum.
Foreign Minister Jean-Yves Le Drian of France, meanwhile, agreed with Mr Qureshi on lifting of sanctions against Iran and the need for providing debt relief to developing countries. He said that he intended to raise the issue of lifting of sanctions on Iran with the IMF, as well as providing debt relief to developing countries at the G-20 meeting.
In his conversation with Turkish Foreign Minister Mevlut Cavusoglu, Mr Qureshi talked about Pakistan passengers stranded in Turkey.
Meanwhile, the minister visited the Italian embassy in Islamabad to express solidarity and signed the condolence book over deaths in that country because of Covid-19 outbreak.
Italy has been the worst-hit country in Europe and has suffered over 6,000 deaths to date.
Published in Dawn, March 25th, 2020