Pakistan conferred Nishan-e-Pakistan Award upon Hurriyat leader Syed Ali Shah Geelani on the Independence Day. The prestigious award was received by Hurriyat leaders at the Aiwan-e-Sadr Friday on behalf of Geelani
Image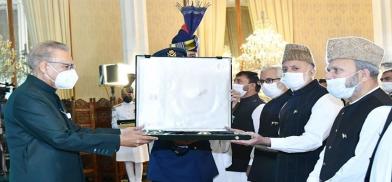 ISLAMABAD: Pakistan conferred Nishan-e-Pakistan Award upon Hurriyat leader Syed Ali Shah Geelani on the Independence Day. The prestigious award was received by Hurriyat leaders at the Aiwan-e-Sadr Friday on behalf of Geelani.
Geelani was born in the Bandipora area of northern Kashmir on September 29, 1929. A staunch advocate of Kashmiris' right to self-determination, he has been the leading voice against Indian oppression and injustice in the occupied valley. The Hurriyat Conference, an umbrella organisation formed in 1993 by various pro-freedom groups in Kashmir, provides a political platform for voices that wish to rid the area of Indian occupation.
However, there was a split in the group in 2003 with Geelani leading a separate faction that was in favour of accession to Pakistan. The split formed when Geelani walked out after another group decided to hold talks with New Delhi.
https://www.thenews.com.pk/print/700834-nishan-e-pakistan-award-conferred-on-syed-ali-geelani