Two days after issuing a lockdown warning and calling for better compliance with Covid-19 standard operating procedures (SOPs), the National Command and Operation Centre (NCOC) on Friday noted an increase in the country's positivity rate, virus-related deaths and hospital admissions
Image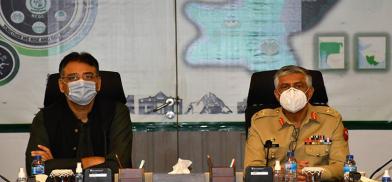 Two days after issuing a lockdown warning and calling for better compliance with Covid-19 standard operating procedures (SOPs), the National Command and Operation Centre (NCOC) on Friday noted an increase in the country's positivity rate, virus-related deaths and hospital admissions.
During the morning session of the forum, health officials presented data on the country's Covid outbreak.
The forum noted that the positivity ratio had risen for the fifth consecutive day, a statement issued by the NCOC said. The average positivity rate is 40 per cent higher during the last four days, the statement said, adding that deaths were also increasing.
https://www.dawn.com/news/1586617/ncoc-sounds-alarm-after-covid-positivity-rate-increases-for-5th-consecutive-day