President Ibrahim Mohamed Solih on Wednesday accredited Dr. Hussain Niyaz, Farzana Zahir and Aminath Shabeena to serve as High Commissioner to the Republic of India, High Commissioner to the Islamic Republic of Pakistan and Ambassador to United Arab Emirates respectively
Image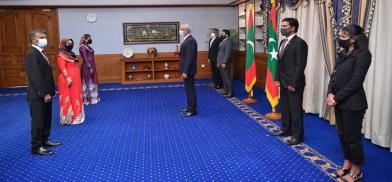 President Ibrahim Mohamed Solih on Wednesday accredited Dr. Hussain Niyaz, Farzana Zahir and Aminath Shabeena to serve as High Commissioner to the Republic of India, High Commissioner to the Islamic Republic of Pakistan and Ambassador to United Arab Emirates respectively. The accreditation ceremony was held at the President's Office, during which the President presented our designated High Commissioners and Ambassador to the aforementioned countries, with their Letters of Appointment.
High Commissioner Hussain Niyaz last served as the Ambassador of the Republic of Maldives to the United Arab Emirates. He held the position of the Permanent Representative to the International Renewable Energy Agency (IRENA) and served in various capacities at the Ministry of Foreign Affairs. Hussain Niyaz holds a Ph.D. on Demography and Development from The University of Waikato, Hamilton, New Zealand.
Farzana Zahir previously served as the Joint Secretary for India and SAARC Division at the Ministry of Foreign Affairs. She served in various capacities at the Ministry. Farzana Zahir holds a Master's Degree in Development Studies at Victoria University of Wellington, New Zealand.
https://avas.mv/en/89156