A two-day seminar for exploring opportunities to boost investment and trade between Pakistan and Afghanistan began in Islamabad on Monday
Image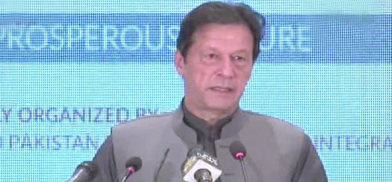 A two-day seminar for exploring opportunities to boost investment and trade between Pakistan and Afghanistan began in Islamabad on Monday.
On the invitation of National Assembly Speaker Asad Qaiser, a 17-member Afghan parliamentary delegation, led by Speaker of Wolsey Jirga Mr Rahmani, arrived in Islamabad to participate in the seminar, titled Pakistan-Afghanistan Trade and Investment Forum 2020.
Speaking at the inauguration, Prime Minister Imran Khan, who was the chief guest, said that Pakistan has also suffered due to the 40-year conflict in Afghanistan.
https://www.dawn.com/news/1587106/pm-reaffirms-support-for-peace-in-afghanistan-at-inauguration-of-two-day-trade-seminar