India has hopes on continuing talks but for Beijing, talks are only to gain time - similar to what the terrorists do, writes Lt Gen P. C. Katoch (retd) for South Asia Monitor
Aug 05, 2020
Image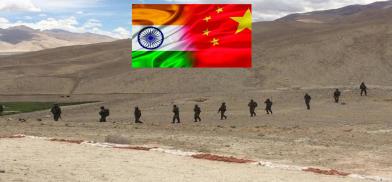 China claimed on July 28 that troops of India and China had disengaged in most locations along the Line of Actual Control (LAC) but acknowledged that Pangong Tso remains to be resolved. Mention of Pangong Tso was unavoidable because the PLA pillboxes and additional Chinese boats inducted cannot be hidden. India has debunked China's disengagement claims. Disengagement anyway is far cry from India's demand for PLA withdrawing to April 2020 locations. Complete disengagement, if at all, will still enable forward PLA deployment tying down Indian troops, which appears to be China's aim along the complete length of the 4,057 kilometer LAC. PLA mobilization, new camps in Eastern Ladakh, and border infrastructure development even in the central sector indicate this.
India has asked China to define the LAC. But Sun Weidong, China's ambassador to India, has signaled that China is not in favor of clarifying the LAC as it could create new disputes. He also maintained that in Eastern Ladakh PLA was on its side of the "traditional customary boundary line" on the northern bank of Pangong Tso, where disengagement is yet to happen. Keeping the LAC ambiguous suits Chinese, as indicated by its new claim to entire Galwan Valley or the recent stake for the Sakteng Wildlife Sanctuary in Bhutan, which is not even close to Tibet. 
Sun Weidong also claims China's territorial sovereignty and maritime rights and interests in the South China Sea (SCS) are in conformity with international law, including UNCLOS (United Nations Convention for the Law of the Sea) whereas the exact opposite is true.
US Secretary of State Mike Pompeo told a Congressional hearing on July 30 that Chinese aggression in India's Eastern Ladakh and claims to real estate in Bhutan indicate intentions of Beijing under Xi Jinping for testing the world to see if anyone is going to stand up to its threats and bullying. The US has reportedly inked an agreement with Vietnam to protect its boat militia. But China though averse to growing India-US relations appears sanguine that the US will not physically intervene in the event of a localized India-China border conflict and neither will India want that. 
The Quad is bonding more but in the event of no conflict at sea, who will fire the first shot at China's navy or shipping when there is so much fear of flare-up on land despite India possessing nuclear arms and knowing China cannot afford full-blown war.
Talks to no avail 
Reading from the fact that India has still not officially named China as the aggressor, Xi appears confident that India is content with beefing up the standoff and not likely to go for a quid pro quo. This suits Beijing's policy of keeping territory it is sitting on. Speaking at a recent webinar, Sun Weidong said that China is not a strategic threat to India and harped upon bilateral relations focusing on mutual co-existence, historical relations, and the need to stay together. Internally, he may be gloating over China having achieved its operational objectives in Eastern Ladakh, especially in Pangong Tso and the deep intrusion in Depsang which can be used as launch pads for further aggression subsequently.
There has been speculation about Xi facing dissent at home. However, indications are that his popularity has gone up on the plank of nationalism with his handling of the coronavirus, aggressive stance in its aftermath, and handling of the pro-democracy movement in Hong Kong with an iron hand, despite the global outcry against it. America is battling the pandemic with a heavy impact on its economy and more than 26 million people filing for unemployment. Indian economy is adversely affected as well despite the government announcing a $266 billion support package comprising both fiscal and monetary measures. In May 2020, Goldman Sachs predicted a 45 percent economic decline in India in the period of April-June while Moody's slashed India's credit ratings to the lowest investment-grade level.
Chinese aggression in Eastern Ladakh is no whimsical decision. China does nothing without perspective plans fitting into long term well thought out strategy debated by the top leadership and strategists. India has hopes on continuing talks but for Beijing, talks are only to gain time - similar to what the terrorists do.
Expect more Chinese machinations 
China's strategy is to strike with devastation whenever and where ever they are strong and consider the enemy perpetually on the defensive. India has taken certain economic measures against China but these by no means are complete. Besides, India has yet to issue an official warning to China for the aggression, not to talk of measures like downgrading the Chinese Embassy and shutting down its Consulate in Kolkata which has been indulging in plenty of mischiefs.
Despite being the most powerful man in China, Xi knows he is not invincible. Behind the mask of his unshakeable countenance, he knows the world doesn't wish him well. But more significant is the childhood phobia that he may be removed for failing to execute the 'China Dream' the same way as his father Xi Zhongxun was purged during the Cultural Revolution despite having served as China's vice prime minister under Mao Zedong
Therefore, Xi is likely to keep reinforcing his all-around aggression while the world recuperates from the virus. Whether he plans to tackle India, Taiwan and the SCS simultaneously or individually and in what sequence is not known but India should expect the current status in Ladakh not the end of Xi's machinations. The time closer to the US presidential elections may witness more Chinese provocations.   
(The author is an Indian Army veteran. Views expressed are personal)