The Bangladesh government is trying its best to restore jobs abroad for the millions of migrant workers so that the large remittance flow continues, writes Dr. Mohammad Rezaul Karim for South Asia Monitor
Jul 05, 2020
Image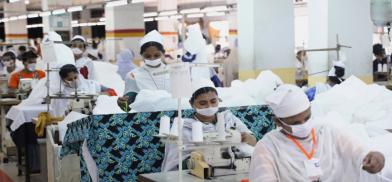 The corona-hit world economy dictates introducing special packages and requires timely attention for its revival. Developing countries like Bangladesh, which is much exposed to globalization, are badly in need of immediate plans and actions for economic recovery. It is estimated by experts that Bangladesh faced a loss of more than 33bn BDT daily due to lockdown. It is almost impossible to regain the economy by a country on its own. Bangladesh needs to revive the economy by collaborating on development activities with financial assistance from outside. Bangladesh has already started communications with other countries and multilateral international organisations for financial assistance to maintain its economic activities. The key areas of recovery are infrastructural development, overseas employment, remittance flow, readymade garment sector, and healthcare.
According to International Monetary Fund (IMF), up until the crisis, the economy had been growing close to 7 percent a year on average over the past decade. The economic impact was felt in three areas: first, a drop in domestic economic activity, after the shutdown announced on March 26 (it is picking up now); the second, decline in exports of ready-made garments (which represent more than 80 percent of Bangladesh's exports) and finally, fall in remittances from Bangladeshis living mostly in Middle Eastern countries, affected not just by the pandemic but also by the decline in oil prices. It is also worth mentioning here that combatting COVID-19 in Bangladesh differs from other countries of the world as its economy is greatly influenced by readymade garments industry, migrant workers, unemployment as well as more than 22 percent people living under below poverty line. Moreover, from 8.8 to 35 million people are estimated to be added to this group making it difficult for quick recovery.
To tackle the socio-economic impacts of the COVID-19 pandemic, the Bangladesh government sought help. It now expects $850 million from World Bank, $750 million from IMF, $600 million from Asian Development Bank (ADB), $250 million from Asian Infrastructure Investment Bank (AIIB) and $150 million from Islamic Development Bank (IsDB). Moreover, Bangladesh continues to attract support from Nordic countries with an expectation of $5 million aid from Sweden, Norway and Denmark. Global financial support is a much-focused issue at the moment when a big portion of the budget is allotted for the health sector and social safety net programmes by the Bangladesh government.
Also, the World Bank approved $1.05 billion funds for three development projects namely Private Investment and Digital Entrepreneurship (PRIDE) Project, Enhancing Digital Government and Economy (EDGE) and Second Programmatic Jobs Development Policy Credit Project.  Similarly, the IMF has approved a disbursement of $ 732 million to tackle the challenges posed by the coronavirus outbreak. Their assistance is aimed at financing the health sector, social protection schemes, stabilizing macro-economic measures, meeting the urgent balance of payments, and fiscal needs. A similar response was also received from the Asian Development Bank (ADB) as it started assisting with $300000 grant to the health sector and approved $100 million in emergency loan for this sector. ADB announced an assistance package of $6.5 billion for developing member countries.  Because of this $1 billion grant, the worst-hit health sector will be able to provide improved services to the COVID-19 patients in the country. 
Talks through diplomatic channels also helped the government. The Japan International Cooperation Agency (JICA) has also announced to stand with Bangladesh to counter the present crisis. Bangladesh expects $1 billion from the long-trusted development partner JICA. The assistance will be helpful for upgrading Chattogram-Cox's Bazar highway with flyovers and bypasses, financing of Dhaka Mass Rapid Transit Development, Urban Development and the Fourth Education Development programme. Ceremonial signing programme may have been delayed due to the pandemic for which Bangladesh has taken measures so that it does not impact negatively.
The European Union (EU) has also announced mobilisation fund of 221 million euros to Bangladesh for cash assistance to factory owners and 113 million (93 million euros in EU grant and 20 million euros in German grant) to support readymade garments workers who were rendered jobless due to the coronavirus mayhem. In addition, the French Development Agency is expected to provide Bangladesh with 150 million euros to improve countries social protection measures.  The aid emphasizes health sector and vulnerable groups as 64.8 million EU grants will be provided to support Rohingyas living in Cox's Bazar, while 246,000 euro have been given to Directorate General of Health Service for operational and technical support. Sweden is supporting the health sector through the UN and NGOs with the projects such as Urban Health on Risk Communication and PPE in Urban Setting (1385000 euros); Wash, Handwashing Facilities and Information in Urban Slums (462,000 euros); and the Midwifery programme with PPE, Training and Triage (462,000 euros). EU transferred 46.12 million euros for building institutional capacity for comprehensive education and skills development. IMF has also announced $50 billion packages that can be increased to $1 trillion for lower-income and emerging market countries to handle the fallout from the pandemic.
International assistance
It is estimated that the corona-hit damage could be about $2 trillion (2.3 per cent of the world's GDP) with an account of 36 per cent in Asia, including Bangladesh. Although, ADB has forecasted 5.5 per cent GDP growth rate for Bangladesh, it looks very optimistic. ADB has forecast that about 0.2 to 0.4 percent Bangladesh GDP may be lost due to the spillover effects of coronavirus outbreak. This will impact employment, development projects, migrant workers, small businessman, private organisations and most importantly readymade garment sectors.
Financial assistance achieved from international organisations through bilateral and multilateral negotiation is viewed to be helpful for reducing poverty, expanding employment market, and sustaining livelihood and economic growth. It is expected that as soon as big projects will take off, it will help in creating more jobs; for example, PRIDE project is expected to create more 150,000 new jobs; EDGE project to create 100,000 jobs and train 100,000 youth on digital technology. Creation of jobs during this crisis has brought much cheer.
Migrant workers
Also, the government will be able to accelerate its economic activity by importing liquefied natural gas, oil and construction materials, favourable power production, and will also be able to take policy decisions to boost exports. The Economic Relations Division of Ministry of Finance and Ministry of Foreign Affairs (MoFA) of Bangladesh are at the forefront of negotiating and achieving a win-win partnership with donor agencies. MoFA has recently requested Spain to take agriculture workers from Bangladesh, which will help in generating employment opportunity for the migrant workers who returned back to the country because of the present crisis. Bangladesh has more than 10 million migrants and who sent close to $18 billion in 2019. International remittances normally represent around 7 percent of Bangladesh's GDP. This loss is huge. So the Bangladesh government is trying its best to restore jobs abroad for the millions of migrant workers so that the large remittance flow continues.
Global partnership will create more quality jobs and accelerate economic recovery from the COVID-19 pandemic for Bangladesh and build resilience to encounter a future crisis.  It is obvious that only prudent public policy can foster economic growth and proper implementation will be able to sustain and accelerate the economy.
(The author is a faculty member at Bangladesh Public Administration Training Centre (BPATC). The views expressed are personal. He can be contacted at reza@bpatc.org.bd)