Two representatives of the International Association of Independent Tanker Owners have arrived in Sri Lanka to review the condition of the fire-stricken Panamanian flagged MT New Diamond oil tanker
Image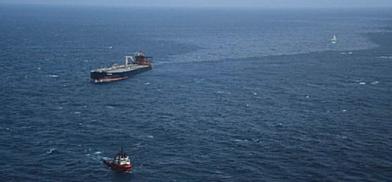 Two representatives of the International Association of Independent Tanker Owners have arrived in Sri Lanka to review the condition of the fire-stricken Panamanian flagged MT New Diamond oil tanker.
They observed the ship from the air today, said Ms. Darshani Lahadapura, Chairperson of the Marine Environment Protection Authority (MEPA)
The ship is currently located about 45 nautical miles east of Batticaloa. Sri Lanka Navy divers during an operation yesterday observed damage to the internal pipe system connected to the two openings that carry seawater to the ship from the left side of the ship.
http://www.colombopage.com/archive_20B/Sep12_1599935169CH.php