India's Prime Minister Narendra Modi has telephoned his Sri Lankan counterpart Mahinda Rajapaksa Thursday, and congratulated him on the successful conduct of parliamentary elections in Sri Lanka yesterday, and impressive performance by the ruling Sri Lanka Podujana Peramuna (SLPP) party
Image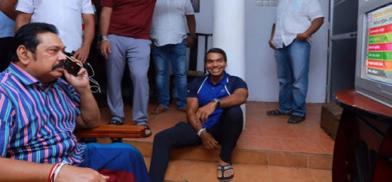 India's Prime Minister Narendra Modi has telephoned his Sri Lankan counterpart Mahinda Rajapaksa Thursday, and congratulated him on the successful conduct of parliamentary elections in Sri Lanka yesterday, and impressive performance by the ruling Sri Lanka Podujana Peramuna (SLPP) party.
The two leaders agreed to remain in close touch as both countries address the challenges posed by COVID 19 pandemic, and resolved to take bilateral relations to newer heights in the coming days, Indian PM's Office said in a statement.
Prime Minister Modi has commended the government and the electoral institutions of Sri Lanka for effectively organizing the elections despite the constraints of the COVID-19 pandemic. He also appreciated the Sri Lankan people for their enthusiastic participation in the elections, and said that this reflected the strong democratic values shared by both countries,
Prime Minister Modi noted that the incoming results of the elections indicate an impressive electoral performance by the Sri Lanka Podujana Peramuna (SLPP) party, and conveyed his congratulations and best wishes to Mahinda Rajapaksa in this regard.
http://www.colombopage.com/archive_20B/Aug06_1596733782CH.php