The Japan International Cooperation Agency (JICA) has urged the Sri Lanka Government to follow "due process" if it intended to shift from Japanese funding for the Colombo light rail transit system (LRT) to a public-private partnership
Image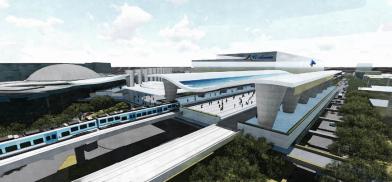 The Japan International Cooperation Agency (JICA) has urged the Sri Lanka Government to follow "due process" if it intended to shift from Japanese funding for the Colombo light rail transit system (LRT) to a public-private partnership.
The Government is yet to respond to the strongly-worded letter to the Treasury Secretary from JICA's Sri Lanka Representative Fusato Tanaka. It expressed "great shock" at a recent pronouncement by Urban Development Ministry Secretary Priyath Bandu that "the current Government has decided not to obtain JICA loans and instead to implement the Project as a Public Private Partnership, and that necessary action would be taken to select a private investor".
Mr Fusato seeks the Treasury Secretary's "urgent clarification on whether or not the statement of the Secretary…reflects (the) official decision of the Government of Sri Lanka".
In March last year, JICA signed a loan agreement with the Sri Lanka Government to provide an official development assistance (ODA) loan to introduce an LRT system with 16 stations distributed over 15.7 kilometres of track in and around Colombo. The project would use Japanese technology including rolling stock and electromechanical equipment.
Completion was due in April 2026. The loan has a 12-year grace period and an interest rate of 0.1 percent. After the change of Government, however, officials have said the preference now is for a PPP over JICA funding. But the position has not been conveyed to the Agency, prompting it to seek clarification in writing.
"So far, the Project has been implemented in accordance with the Loan Agreement, which were [sic] signed based on international agreement (Exchange of Notes) between the Government of Sri Lanka and the Government of Japan," Mr Fusato says.
"Accordingly, we strongly believe that the statement quoted above [Mr Bandu's] should not be made unilaterally without following due process between two countries since this project is being implemented as a public investment with Official Development Assistance from JICA," he continues. "We have not received so far any official communication in writing for a consultation regarding the review of the content of this project from the Government of Sri Lanka, nor have we agreed with any modification or cancellation on the Loan Agreement or any of its associated documents."
JICA has reminded the Treasury Secretary that the project was formulated through extensive studies by international and local consultants spanning several years based on the official request of the Sri Lanka Government. The Agency "has made every effort to formulate the project and loan terms and conditions to maximise benefit to the people of Sri Lanka".
Last week, both Cabinet Spokesman Bandula Gunawardena and Ramesh Pathirana said the Government was not proceeding with JICA funding for the LRT. But Dr Pathirana confirmed to the Sunday Times that there had been no Cabinet decision to this effect.
http://www.sundaytimes.lk/200628/news/light-rail-project-jica-demands-clear-answer-from-govt-407778.html