Thailand hopes to sign a Free Trade Agreement with Bangladesh soon, outgoing Thai Ambassador to Bangladesh Arunrung Phothong Humphreys has said
Image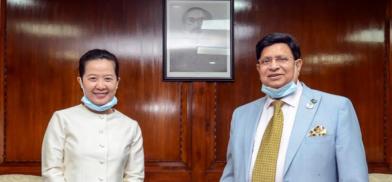 Thailand hopes to sign a Free Trade Agreement with Bangladesh soon, outgoing Thai Ambassador to Bangladesh Arunrung Phothong Humphreys has said.
Mentioning that Thailand already has a significant investment presence in Bangladesh, she expressed hope that negotiators of both countries would finalise the draft of the proposed FTA and the two countries would be able to sign it soon.
The Thai ambassador said this during her farewell call on Foreign Minister AK Abdul Momen at the ministry yesterday, said a statement.

https://www.thedailystar.net/world/south-asia/news/thailand-hopes-sign-free-trade-deal-bangladesh-soon-outgoing-thai-envoy-1974829