Over 50 people came out in a queue to purchase vegetables in the evening at Rabdeyling demkhong in Gelephu yesterday
Image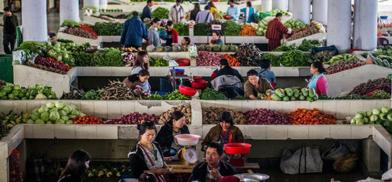 Over 50 people came out in a queue to purchase vegetables in the evening at Rabdeyling demkhong in Gelephu yesterday. In the queue were residents who waited for at least two days or more to get vegetables, calling vendors, and texting their list of vegetables. De-Suups and police were at the location, monitoring the crowd.
Nima Dorji from Gelephu came out of his home for the first time in six days to purchase vegetables. He returned home with a bagful of vegetables.  "We are not sure how long the lockdown would continue. I called for essential items and vegetables several times. The contact numbers were either switched off or busy," he said.
He added that there was no information about vegetable supply at Rabdeyling. "Many are not aware. Information about the location should be shared properly," said Nima Dorji.
Tenzin Wangchuk, a volunteer with Bhutan Red Cross Society said it was difficult to get essential items until FCB started to deliver. "Orders were placed through messages. I was told the essentials would reach within three days but it did not," he said.
However, it was a busy week for Namgay, a vendor who was authorised to supply vegetables in the Chuzanggang area during the lockdown in the dzongkhag.
https://kuenselonline.com/gelephu-running-out-of-vegetables/