With three new cases detected yesterday, Phuentsholing - Bhutan's largest commercial town - has now 16 confirmed COVID-19 positive cases. All are from the Mini Dry Port (MDP)
Image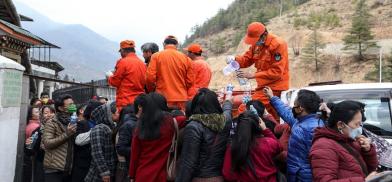 With three new cases detected yesterday, Phuentsholing - Bhutan's largest commercial town - has now 16 confirmed COVID-19 positive cases. All are from the Mini Dry Port (MDP).
Two men and a woman, who are the primary contacts of the positive case in Phuentsholing, were all found to be COVID-19 positive yesterday. The health ministry said they are from the MDP and not from the community.
Kuensel sources said that the woman is a sweeper at the MDP. She also worked at the MDP canteen. By late yesterday evening, rumours that three policemen in Phuentsholing had been infected with the virus had gone viral. Kuensel sources said that one of the two men is a traffic policeman. However, Kuensel couldn't confirm this officially.
Meanwhile, the lockdown has brought the town to a standstill. Although figures couldn't be confirmed, Kuensel learned there were Bhutan bound trucks stuck across the border. Many trucks are also stranded at the MDP.
Without the entry of trucks to Phuentsholing, the MDP has also ceased to function. Along with loaders (about 140), at least 60 customs officials have been quarantined.  
Revenue and customs officials from Paro will be brought to Phuentsholing to replace the staff quarantined, but finding new loaders is a problem. About 420 primary contacts were traced on the first day after the MDP positive case.
https://kuenselonline.com/red-zone-phuentsholing-sees-three-more-cases/