Afghanistan's second vice president, Mohammad Sarwar Danish, on Sunday blamed the Taliban for Saturday evening suicide attack on an educational centre in Kabul and called on the people to get ready for "tougher days" ahead
Image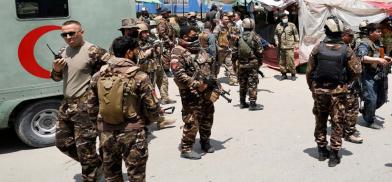 Afghanistan's second vice president, Mohammad Sarwar Danish, on Sunday blamed the Taliban for Saturday evening suicide attack on an educational centre in Kabul and called on the people to get ready for "tougher days" ahead. 
The attack which killed at least 30 people, mostly students, was quickly denied by the Taliban. In a series of tweets, the second vice president called on Afghanistan's allies, especially the United States and United Nation, to stop the ruthless killings of Afghans by the "hands of Taliban." 
Asking the people to come together, the vice president, warned the Afghans to be ready for tougher days ahead. No group has come forward to take responsibility for the ghastly attack. 
While some analysts claimed that ISKP took responsibility for the attack by posting a message on the group's official Telegram account. 
But this claim is being doubted as ISKP hasn't provided any proof- an unlikely scenario especially when the attack is spectacular to this extent and the group has a chance to use it as a big propaganda tool. 
Those who are killed are mostly of Hazara ethnicity. Taliban in the late 90s massacred thousands of Hazara Shia in central Hazarajat. The attack is also being seen as to invoke the sectarian divide in already fractured Afghan society.   
Tariq Arian, spokesperson for Interior Ministry said, "It was a terrorist incident that was the continuation of crimes by the Taliban and their allies, crimes against the people of Afghanistan, education centers, holy places and clinics."
Furthermore, the attack drew sharp condemnation from the European Union. Roland Kobia, European Union special envoy for Afghanistan, called the international community to show "full unity" and "massive pressure" for an immediate ceasefire. He tweeted, "This and other recent attacks on provincial capitals the so-called "Reduction in violence". Enough."
Interestingly, US special envoy for Afghanistan reconciliation Zalmay Khalilzad is yet to comment on the attack. As the Taliban stepped up its offensive in the last month, the European Union and the American's approach looks different, the EU seems clearly standing behind the Afghan government, with NATO pledging financial and military support until 2024, while the US has taken a careful non-partisan approach to current events.