American journalist Lawrence Lifschultz has said the "connection" between Ziaur Rahman and the United States behind the assassination of Bangabandhu Sheikh Mujibur Rahman should be investigated
Image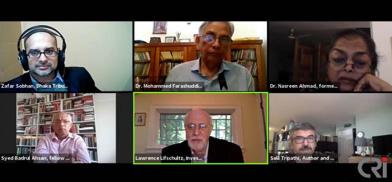 American journalist Lawrence Lifschultz has said the "connection" between Ziaur Rahman and the United States behind the assassination of Bangabandhu Sheikh Mujibur Rahman should be investigated.
Lifschultz, who was the South Asia correspondent for the Far Eastern Economic Review when the massacre of Bangabandhu's family took place on Aug 15, 1975, recounted the days in an online discussion.
The Awami League's Centre for Research and Information or CRI organised the discussion – "Bangladesh 1975: Setting the Clock Back", on Thursday, five days after the death anniversary of the Father of the Nation and National Mourning Day.
"This is not only Bangladesh's question, accountability and justice, but for me, it's also an American question. Because the United States might have reluctantly found out, discovered interesting documents," Lifschultz said of Bangabandhu's killing.
"The men who were behind, they wouldn't have moved without Ziaur Rahman's backing. Ziaur Rahman would move with America's backing. That needs further investigation," he added.
A group of army personnel killed Bangabandhu and much of his family in one of the world's worst political carnages that catapulted Zia to the centre of Bangladesh's power.

https://bdnews24.com/bangladesh/2020/08/21/investigate-us-ziaur-rahman-connection-behind-bangabandhu-killing-lifschultz