The government of India, on Monday, halted the export of onions due to shortages in the states of Maharashthra, Andra Pradesh and Karnataka as a result of severe flooding
Image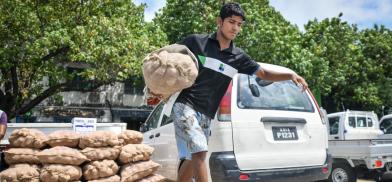 The government of India, on Monday, halted the export of onions due to shortages in the states of Maharashthra, Andra Pradesh and Karnataka as a result of severe flooding.
However, according to Maldives' Ministry of Foreign Affairs, India has confirmed that the island nation would remain exempt from the ban as its largest neighbour plans to continue its exports under a special bilateral trade agreement.
"In view of the special dispensation made for Maldives, India will continue to export onions from Tuticorin and Kochi ports", said the Indian High Commission.
"The notification issued by Director General of Foreign Trade on 11 August, 2020, clearly specifies that the export of essential food items to Maldives will be exempted from any existing or future restriction/prohibition of exports".

https://edition.mv/news/19150