The US-India relationship has a number of contentious issues, trade being the most important of them, writes Pranay Kumar Shome for South Asia Monitor

Feb 05, 2020
Image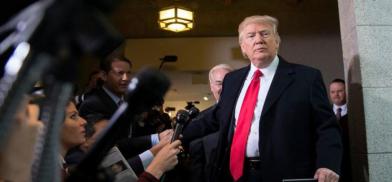 After the 'Howdy Modi' event at Houston, Texas last September there appeared to be a new trajectory in US-India relations. But, behind the optics of the visit of Prime Minister Narendra Modi to the United States, remained a host of contentious unresolved issues, including on trade and defence.
The first state visit of US President Donald Trump provides an opportunity for a convergence of US and Indian interests on a host of issues. The first of them is defence: India is keen to deepen its bilateral defence relationship with the US; the purchase of 22 Apache attack choppers and 15 Chinook heavy-lift choppers signal that both countries are serious about bolstering this partnership.
On the agenda of the Trump visit is confirmation of the Basic Exchange and Cooperation Agreement (BECA), which would facilitate the exchange of geospatial information between India and the US, which considers it one of the foundational agreements, besides the MTCR (Missile Technology Control Regime) and LEMOA (Logistics Exchange Memorandum of Agreement), which will allow India to gain access to cutting edge US technology for military usages. Another aspect that could be very important for New Delhi is to give more substance to the nascent Quad grouping. India has been generally shy of giving the Quad a full military makeover to counter the assertiveness of China in the vitally strategic Indian Ocean Region (IOR). Upgrading the Quad (Quadrilateral of Japan, Australia, USA and India) grouping talks to ministerial level through direct talks with the visiting US president would serve to counter the hegemonic nature of the Chinese military machine.
Another area of convergence is the need to reduce China's influence on global trade. India needs to tread carefully but has developed a reformulated non-alignment policy, which a group of experts proposed in 2012 as a way of maximizing Indian strategic autonomy. However, some policymakers fear that this would preclude India from seizing strategic and economic opportunities and responding to an unpredictable security environment, characterized by the presence of a powerful China.
Today, might India rethink the non-alignment strategy in a different format, given America's turbulent relationship with allies and adversaries, including India. For the foreseeable future, India must pursue soft balancing, limited hard balancing and proactive diplomatic engagement with China. The hard balancing involves asymmetrical capability acquisition and the building of additional strength along the border and naval assets in the Indian Ocean. However, a full spectrum of nuclear deterrent deployment has been delayed by the slow pace at which India develops and deploys its indigenous missile capabilities.
The US-India relationship has a number of contentious issues, trade being the most important of them. Washington has been very vocal when it comes to trade and commercial issues. The US has been consistently demanding greater market access to Indian markets and has urged India to make greater investments in US markets to reduce the trade deficit (in India's favour). India will be looking to finalize a trade deal with the US which would help India to help garner some of the advantages that it enjoyed under the Generalized System of Preferences (GSP).
Several measures are needed to harmonize bilateral commercial matters: Firstly, a high-level of trade mechanism, comprising the top trade bodies of both countries, must be set up to resolve outstanding trade disputes. Secondly, establishing tie-ups between leading firms in the IT sector, pharmaceuticals, oil and petroleum sector and education will help India to not only gain vital experience from US practices but would also promote greater American investments in the crucial MSME sector in India, which is vital for job creation and has experienced a drastic slowdown. The MSMEs have around 63.4 million units throughout India, contribute around 6.11% of the manufacturing GDP and 24.63% of the GDP from services and 33.4% of India's manufacturing output. They have been able to provide employment to around 120 million persons and contribute around 45% of the overall exports from India.
Defence has also been a contentious area with the US considering imposing sanctions on India for India's purchase of the Russian S400 (Triumf) missile defence system. Under the CATSAA, US sanctions will kick in when the first payment is made.  India has been lobbying intensively with the US administration to seek a potential exemption from the punitive sanctions, but Washington has been largely unrelenting. How policymakers in South Block respond to the US stand remains to be seen.
It is imperative that the US and India, through sustainable and mature diplomacy and clear thinking, attempt to resolve their outstanding problems. Regular exchange of high-level political visits has provided sustained momentum to bilateral cooperation, while the wide-ranging and ever-expanding dialogue architecture has established a long-term framework for the India - US engagement. Today, India-US bilateral cooperation is broad-based and multi-sectoral, covering trade and investment, defence and security, education, science and technology, cyber security, high-technology, civil nuclear energy, space technology and applications, clean energy, environment, agriculture and health. Vibrant people-to-people interaction and support across the political spectrum in both countries nurture our bilateral relationship.
(The writer is a student of International Relations from Jadavpur University, Kolkata)