Peshawar's deputy commissioner (DC) on Friday refused to grant permission for a public meeting planned by the Pakistan Democratic Movement (PDM), citing the rising spread of the novel coronavirus in the district
Image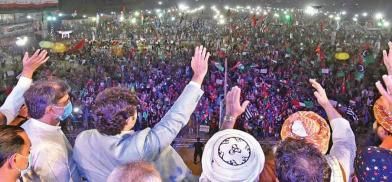 Peshawar's deputy commissioner (DC) on Friday refused to grant permission for a public meeting planned by the Pakistan Democratic Movement (PDM), citing the rising spread of the novel coronavirus in the district.
The opposition alliance had sought permission to hold a public meeting on Peshawar's Dalazak Road, Ring Road Chowk earlier this month.
A letter issued by the DC's office today noted that the coronavirus positivity rate in Peshawar district had exceeded 13 percent, adding that a public gathering "is likely to further increase the spread of the life-threatening virus".
The letter went on to say that in order to "safeguard human lives [from the] potential spread of Covid-19", the public gathering cannot be allowed to take place.
 Source- https://www.dawn.com/news/1591413/peshawar-admin-refuses-permission-for-upcoming-pdm-rally-citing-increase-in-covid-19-cases