Saudi Ambassador Nawaf Bin Saeed Ahmed Al-Malkiy called on Chief Minister Usman Buzdar and leaders of Pakistan Muslim League-Quaid (PML-Q) and some religious parties here on Friday
Image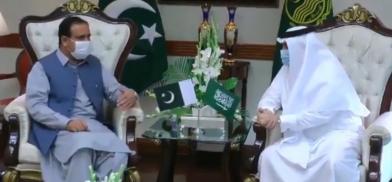 Saudi Ambassador Nawaf Bin Saeed Ahmed Al-Malkiy called on Chief Minister Usman Buzdar and leaders of Pakistan Muslim League-Quaid (PML-Q) and some religious parties here on Friday.
The Saudi ambassador's meetings are being seen as part of an effort to mobilise support for his country.
Hafiz Tahir Ashrafi, leader of the Pakistan Ulema Council, flew to Saudi Arabia last week to discuss the relations between the two countries.
The PML-Q leadership had on Thursday expressed dismay over the 'language' used by Foreign Minister Shah Mehmood Qureshi about the brotherly country during a talk show recently.