Dashing all the hopes of Pakistan's government to get the country off of the grey list, the FATF has decided to keep the country on the grey list until February 2021
Image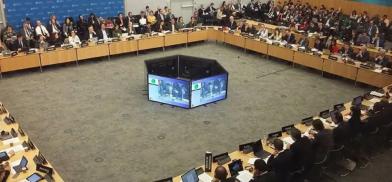 Dashing all the hopes of Pakistan's government to get the country off of the grey list, the FATF has decided to keep the country on the grey list until February 2021. 
Paris-based International terror financing watchdog body, Financial Action Task Force (FATF), announcing the decision said, the country needs to follow on six remaining key points recommended in its 27 point action plan by February 2021. 
Pakistan was put on the grey list of FATF in June 2018, since then country struggled to find a way out of it as it has been failing to act on 27 recommendations made in the action plan provided by FATF. 
Appreciating the effort of Pakistan's government, FATF said the country made significant progress on 21 points, but yet to do more on the remaining six points to avoid further greylisting. Due to its action on 21 points, Pakistan managed to avoid blacklisting.
Currently, North Korea and Iran are the only countries on the black list of FATF, which severely restrict the countries' ability to access international finances and grants. 
This is not the first time when the country founds itself in the grey list; in 2008 and 2012-2015 Pakistan was there on the grey list. But delisting became more necessary than ever when its already struggling economy faced a further slowdown caused by the pandemic.   
The country was asked to do more on preventing money laundering and terror financing in the country. The Pakistan Army has long used nonstate actors and other regional terrorist organizations to pursue its foreign policy goals through terrorism and often these organizations work with impunity in the country to carry out their activities and raising the finances. 
India and Afghanistan remained the worst affected by these terrorist organizations that operate from Pakistan.