The Sudurpaschim provincial government in Nepal on September 1 had issued a notice directing people not to go to India in search of jobs amid the coronavirus pandemic
Image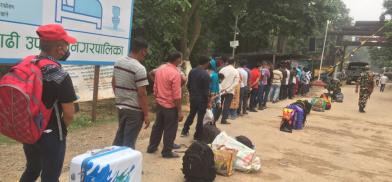 The Sudurpaschim provincial government in Nepal on September 1 had issued a notice directing people not to go to India in search of jobs amid the coronavirus pandemic. But many youths from the province continue to migrate to India from the western border point on a daily basis.  Many Nepalis from the province have for years been working in the apple orchards of various Indian states.
According to the Police Inspector at Gauriphanta border point in Kailali Rajendra Kunwar, 10,458 Nepalis have already crossed the border in Gauriphanta to reach India since mid-August.
"Around 500 to 1,000 individuals arrive at the border to go to India these days," said Kunwar.
https://tkpo.st/364AXFV