People in Umerkot live in communal harmony. While the Hindus arrange Iftari in the month of Ramazan and Niaz in the month of Muharram, the Muslims come forward to attend Hindu festivals, thus sending a message of love, peace, and harmony, writes Furqan Hyder Shaikh for South Asia Monitor
Nov 21, 2020
Image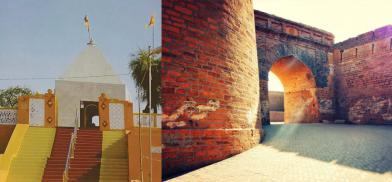 Umerkot in Pakistan's Sindh is one of the districts that run under the Mirpurkhas division. According to Pakistan's population census 2017, district Umerkot's total population is 107,314,6 comprising four talukas named Kunri  (218,493), Pithoro (119,971),  Samaro (170,288), and Umerkot (564,394). The city is also famous for being the birthplace of Mughul Emperor Akbar.
Umerkot, which is a gateway to the Tharparkar desert, once had Hindus in the majority and played an important part in the rich history of the subcontinent. Umerkot was the only state with a Hindu majority and a Hindu king, which acceded to Pakistan. 
It is equally important to know that this district works as a bridge between Tharparkar and the rest of the Sindh province located barely 60 km from the Indian border. As their common practice, people of Umerkot get up early and leave in search of their daily bread and butter to feed their families. Most of the people are peasant or labourers while a substantial number is engaged in other economic activities.
Communities living in Umerkot city and its outskirt or remote villages belong to different castes, including Syed, Rajput, Mangniyar, Kunbhar, Charan, Bheel, Meghwar, Kolhi, Bajeer, Arisar, Rahimoon, Samejo, and Suthar.
Umerkot: Dubai of Thar?
It was reported that Umerkot will be developed as Dubai of Thar to attract tourists. This will offer many more economic opportunities for its people. In January, this year, the Pakistani government had announced that it was exploring options for tourism investment projects in southern Sindh province and wanted to set up a desert safari on the model of Dubai's popular desert safaris. Sindh is home to the Pakistani part of the Thar Desert, also known as the Great Indian Desert, which is the 17th largest in the world.
Umerkot, which was once ruled by the Sodha Rajput clan of Hindu Rajputs from medieval times until 1947 when it became part of Pakistan, is said to be doing economically well. According to a municipal town committee employee, Umerkot's Aisha Market (a mall-type marketplace comprising 40 to 50 shops) in the Shahi Bazaar is said to be doing business of more than three million to five million rupees daily. On the left side of Thar Bazaar, an owner of a grocery wholesale shop dealing in raw food items like sugar and flour, etc. said his daily sales stand around 200,000 to 300,000. He further expressed that most of his customers and clients come from the Thar region.
According to a People's Primary Healthcare Initiative worker, the approximate revenue generated by district Umerkot could be around 15 to 20 million. A hairdresser, who belongs to the Mangniyar community, said there were more than 100 hairdressing salons in the city and they each make good money. In the festive seasons like Eid, Holi, Diyari, and other religious or traditional rituals, their sales further go up.
People in Umerkot live in communal harmony. While the Hindus arrange Iftari in the month of Ramazan and Niaz in the month of Muharram, the Muslims come forward to attend Hindu festivals, thus sending a message of love, peace, and harmony. 
Neglected, underdeveloped region
Ironically, however, the condition of the people is really bad as they don't have any facilities. Despite business activities,  Umerkot city itself has not developed at the pace it should have so that it could have attracted national and international investors and tourists, which would have then contributed to the overall development of the city. This would have further helped in providing uninterrupted electricity, clean drinking water, and other amenities.
There are many reasons for the city facing utter neglect; mainly very few employment prospects and displacement of poor families. The people have been suffering from social, economic, political, educational, environmental, and health issues for decades.
According to a report of Pakistan Multi-Sectoral Action for Nutrition Program, Environmental and Social Management Framework, Planning and Development Department, Government of Sindh 2016, the people of Umerkot face major diseases like fever/common cold, diarrhea, cholera, skin diseases, cough, and stomach worms among others. The major reason behind this is unsafe drinking water.
The Rajput connect
Despite the fact that Umerkot is being considered as Dubai of Tharparkar  the people live a life of neglect and need immediate national and international attention to improving their lives.
Philanthropist organizations, including international organisations and the rich Rajput community from both India and Pakistan, should come forward to develop this city to improve the lives of the people. The international community should work along with the Pakistan government to improve the Thar region so that people could get safe water, quality education, health facilities and round the clock electricity.
Also, the strong Rajput community – as the majority of the people of Umerkot belong to this community – on both sides of the border can play the role of a catalyst in building good relations and find ways to help the destitute. This can be done if the scion of erstwhile Jaisalmer royal family Maharawal Brijraj Singh and the former ruling family of Umerkot, Rana Hamir Singh can find ways of uplifting and strengthening the cultural bonds of the people living on the desert spread over both countries.
The Pakistan government needs to come out with special development policies and programs for Umerkot with the help of donors in order to promote entrepreneurship, education, research, business, tourism, and entertainment. For this, the business community should also come forward to make this city their own. The district government should also announce development schemes for the city, which would attract regional investors.
If the people of Umerkot really want their city to sustain its inherent culture and the diversity it promotes then they should strive to keep their rich identity alive. Also, the role of the erstwhile royal families from both Umerkot and Jaisalmer (in India's Rajasthan) is important as they could help in developing relations aimed at peace, love, harmony, and opportunities for all.
(The writer is a development professional and public policy analyst working as Associate Program Officer at Innovation and Entrepreneurship Centre, Mehran University of Engineering and Technology, Jamshoro, Sindh, Pakistan. Views are personal. He can be contacted at furqanhyders@gmail.com and tweets @furqanppolicy)