Jordanian security forces have fired tear gas Monday to disperse a group of protesting Sri Lankan migrant workers who had lost their jobs due to the Corona epidemic and stranded in Jordan and wanted to be repatriated, local media reported citing Sri Lankan embassy sources
Image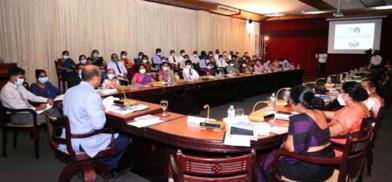 Jordanian security forces have fired tear gas Monday to disperse a group of protesting Sri Lankan migrant workers who had lost their jobs due to the Corona epidemic and stranded in Jordan and wanted to be repatriated, local media reported citing Sri Lankan embassy sources.
Sources at the Sri Lankan Embassy in Jordan have said that when a group of Sri Lankan embassy officials visited the Alcara Camelwega industrial estate to discuss with them, nearly 340 Sri Lankan workers surrounded the officials and protested, saying there was no definite solution to the problem.
The sources said that the Jordanian police used tear gas to control the unrest that had taken place after one of the diplomats had been placed under house arrest by the protesters.
However, no official or Sri Lankan worker was harmed, embassy sources said.
Mangala Randeniya, Deputy General Manager of the Bureau of Foreign Employment and Media Spokesman of the Bureau said that the tear gas attack was carried out to control the situation arose due to the misconduct of the Sri Lankan workers. Tense situation has resulted from a misunderstanding when the workers were explaining to the embassy officials the difficulties they are facing due to being trapped in their hostels for over five months after losing their jobs due to the pandemic, he said.
Mr. Randeniya said three embassy officials have visited the Alkara Camelvega Industrial Estate to discuss the issue with about 340 stranded migrant workers and added that no one had been harmed in the tear gas attack.
However, the situation has been brought under control and the Bureau of Foreign Employment will take steps to repatriate Sri Lankan workers who have lost their jobs as soon as possible, the official said.
Mr. Randeniya said that the embassy in Jordan is constantly monitoring these Sri Lankan workers who have lost their jobs.
The Protesting Sri Lankan migrant workers say they have not been paid properly for five months and they only receive two meals per day. Therefore, they request the Sri Lankan government to bring them back to the island as soon as possible.
 http://www.colombopage.com/archive_20B/Jul28_1595877251CH.php