The United Nations High Commissioner for Human Rights Michelle Bachelet today expressed concerns over Sri Lanka's proposed 20th Amendment to the Constitution
Image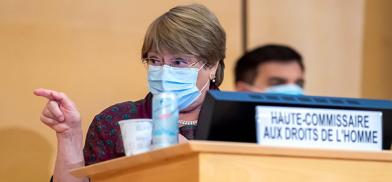 The United Nations High Commissioner for Human Rights Michelle Bachelet today expressed concerns over Sri Lanka's proposed 20th Amendment to the Constitution.
Delivering opening remarks at the 45th Regular Session of the UN Human Rights Council (UNHRC) in Geneva Monday, the Rights Chief said she is troubled by the swift changes the Sri Lankan government is making after withdrawing its support to the UN resolution 30/1.
"In Sri Lanka, I am troubled that the new Government is swiftly reneging on its commitments to the Human Rights Council since it withdrew its support for resolution 30/1," she said.
http://www.colombopage.com/archive_20B/Sep14_1600107634CH.php