Bangladesh has reported 5.24 percent GDP growth in FY 2019-20 with the coronavirus pandemic ravaging the economy for at least a third of the financial year
Image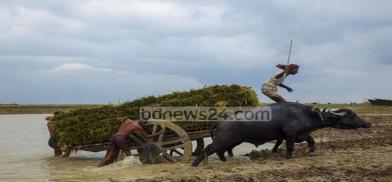 Bangladesh has reported 5.24 percent GDP growth in FY 2019-20 with the coronavirus pandemic ravaging the economy for at least a third of the financial year.
The size of the GDP stood past Tk 27.96 trillion while per capita GNI surged to $2,064 from $1,909 the previous fiscal year.
After the Bangladesh Bureau of Statistics or BBS published the latest data on Monday, Planning Minister MA Mannan expressed happiness calling the GDP growth "promising".
"We had to go through different adversities. Almost everything was closed for four months from March to June. I would say that a 5.24 percent growth even after these hurdles is a very good growth," he told bdnews24.com.
He thanked the people for "fending off the adversities and keeping the wheels of the economy rolling".
"The World Bank and IMF forecast that our GDP growth would be below 2 percent. But we have achieved a respectable growth proving them wrong," the minister said.
"I think many big countries will not be able to achieve this much growth," he added.
https://bdnews24.com/economy/2020/08/11/bangladesh-economy-grows-5.24pc-amid-coronavirus-pandemic