The pandemic has revealed the Jana Sangh-BJP's basic faultline which marks the breach between the affluent and the non-trader lower castes and the lower middle and working classes, writes Amulya Ganguli for South Asia Monitor 
May 17, 2020
Image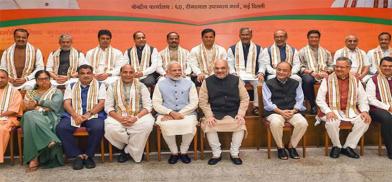 "Yeh sab hamare hi log hai" (these are our own people), a BJP MP from Rajasthan, Om Prakash Mathur, has written to Union Home Minister Amit Shah about the migrant labourers, tens thousands of whom are trekking to their home villages from the cities amid severe privation. He wanted, therefore, that transport facilities be made available for them because their plight has become a "matter of intense discussion". 
Although the government has tried to help sections of them by running trains, the effect has been spoilt  by the "moronic" decision to charge fares from the desperate migrants, as Subramaniam Swamy,  BJP MP said before he was persuaded by the railway ministry that the government will bear 85 percent of the cost and the states the remaining 15 percent. But the damage had done been because, first, the division of responsibility was patently too much of a tedious bureaucratic exercise to provide immediate relief; and, secondly, because the normally flat-footed Congress party's quick offer of paying the fares caught the BJP off-guard.
Indeed, the BJP has been on the defensive ever since the migrant labourers rushed to the bus terminals in Delhi to board whatever bus was available on the morning after the lockdown was announced and, subsequently, began their long treks towards their village homes in journeys of epic proportions comparable to the post-partition migrantion of Hindus and Sikhs from Pakistan and of Muslims from India in 1947
What the television pictures of these hundreds of men, women and children travelling thousands of kilometres have underlined  is the catastrophic consequences of a sudden shutdown on the lives  of countless daily wage-earners and people with small salaries such as the industrial and contruction workers, masons, waiters in roadside tea stalls and dhabas, plumbers, electricians, carpenters, tailors, presswallahs who iron clothes, servants and maids, rickshaw and puschcart pullers, taxi- and auto-drivers and others like them.
At one stroke, they were deprived of their daily livelihoods with nothing but the meagre sums they had earned till then in their pockets. With heartless owners evicting them from their tiny rented accommodations and little prospect of securing square meals every day for themselves and their dependents in the foreseeable future, these hapless people had no option but to think of returning to their village homes even if these were a long distance away in another province. Their hope was that if they could somehow get there, they will at least be back in an environment known to them and have access to food and a roof over their heads.
Hence, their journeys on blistered foot, on cycles, bullock carts or trucks if they could hitch a ride by paying whatever the driver demanded and in whatever space they could squeeze themselves in. The privations are unimaginable for the middle class, the BJP's key constituency, who could take the precipitous clampdown in their strides because a vast majority of them live in their own houses and have enough savings to meet any immediate requirement. They also have ther TVs and subscriptions to Netflix and Amazon Prime to enable them while away their time and keep  boredom at bay even if they cannot go to their clubs and favourite restaurants.
So, even as the unwashed masses made their weary way to distant destinations along highways where accidents are not uncommon, the middle classes could be asked by the ruling establishment to light candles – nine diyas at 9 o'clock – or watch helicopters showering petals on hospitals, enthusing a saffron scribe to croon about the prime minister's popularity reaching "dizzying heights".
The acolyte may well be right so far as the BJP's core base of support is concerned. But what the sad fate of the migrants has exposed is the party's familiar Brahmin-Bania face for which it has been known from its Jana Sangh days. Ever since the BJP started winning elections on a regular basis and over large parts of the country, it has tried to superimpose on its upper caste-middle class-trader base other castes and communities with considerable success, supplanting the Congress's old Brahmin-Muslim-Harijan combine.
But the pandemic has revealed the Jan Sangh-BJP's basic faultline which marks the breach between the affluent and the non-trader lower castes and the lower middle and working classes. These are the outliers who work in factories, build city skyscrapers and residential mansions and keep the cities in trim by performing all the numerous odd jobs for the denizens of the high-rises. Without them, the metros will come to a grinding halt. Even now, not all of them have joined the exodus; so they deliver food from takeaway joints or fix air-conditioners or water pipes as their mobile numbers are available to their clients.  
However, the BJP appears to be slowly realizing that it focussed too much on the thhali-bajao, taali-bajao (banging plates and clapping) group and lost touch with hoi polloi who will still be needed at election time. It is unclear whether the economic packages – mocked as "loan melas (fairs)" by critics – will pay dividends since the benefits from some of them will be time-consuming affairs. The "one nation, one ration card" scheme, for instance, will not come into force before March next year. Moreover, it is not only the migrants who may show signs of disenchantment with the BJP at election time. Even sections of the middle class may not be pleased with the BJP's seeming indifference towards the down-and-out.
(The writer is a current affairs analyst. The views expressed are personal and not necessarily shared by editors of South Asia Monitor)